Today yet another tweak to change the way you use the lockscreen of your iOS device was released called Axis.
Axis is actually similar to the Grabby Cydia tweak released by Ryan Petrich that we covered previously, but Axis could be considered more polished and because it was deigned by Sentry you know it is going to be good.
By default once you install Axis you be able to start using it right away from the lockscreen. Simply place your finger on the Camera Grabber and slide to the left. You will be able to lock on to an app icon and upon swiping up on it.
Where Axis really shines, however, is in its Settings app. At the top of the main configuration panel there is a nice tabbed interface, which represents the Camera Grabber tray. There is also a list of our applications all neatly organized into sections that include Basic, Messaging, Social, Productivity, News, Music and Video.
Whichever tab is activated you can begin customizing If you chose to change the shortcut on the far left to Mail, for example, you will be  re-directed to a new page with other well known mail applications. You can choose whichever application you use for Mail or even add a custom app if it isn't listed.
The rest of the shortcuts can all be configured the same way. What is nice about Axis is that all of the shortcuts you choose will have a well designed icon that looks native. You will not find the stock icon for an app in the Camera Grabber tray, it will always be something pre-made by Sentry to fit the look of the tweak.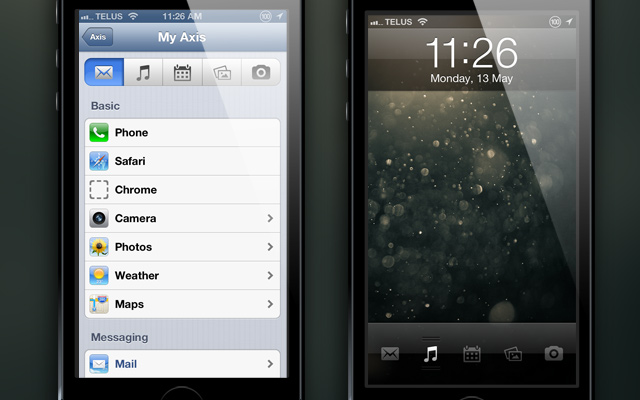 Other than the ability to customize the shortcuts in the Camera Grabber that is all the Settings Axis includes. The differences between Axis and Grabby are very subtle. Axis posses more of a polished Settings app and user interface in some cases, but it doesn't have all the functionality of grabby, specifically the ability to launch apps by simply sliding over to a shortcut.
In the end you will have to decide whether you want to spend $0.99 to get a more polished lockscreen shortcut tweak or whether or not you want to get Ryan Petrich's free Grabby tweak.
Let us know what you think of the Axis Cydia tweak in the comments section below and be sure to check out our video overview.