Back in August we told you guys about a Cydia tweak called Anemo that was being worked on by A3tweaks and now it has finally been released into Cydia and is available for you all to enjoy.
For those of you who missed our initial overview of the tweak, it originally started as a concept by Sentry and then as it quickly rose in popularity both Sentry and programmer John Corbett behind A3tweaks decided to make it a reality.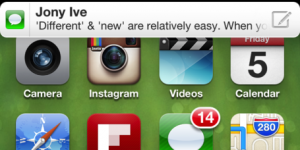 Essentially what the tweak does is adds a quick reply button to banner notifications that will appear in the right hand corner of the banner. Upon tapping this button an unobtrusive window will appear where you can reply to the SMS/iMages within the current application/area of iOS you are in.
There are no major settings to configure with Anemo, you simply install it and it begins working just as advertised.
Considering Anemo's $2.99 price in the BigBoss repo you may think it is a little pricy for the current functionality present in the tweak, but its developers promise to update the tweak consistently just like MiniPlayer. Upcoming features include a quick compose sheet, quick reply via Lock screen and Notification Center, and many other exciting additions.
If you are interested in Anemo I definitely recommend you grab it, it is an extremely polished tweak and will be great for heavy texters. Let us know what you think of the tweak in the comments section below.