It looks like theres a silky smooth Quick Reply tweak coming soon to Cydia near you called Anemo.
The tweak was featured by Sentry as a concept and then quickly rose in popularity. The tweak is designed by well-known iOS designer Sentry and programmed by John Corbett.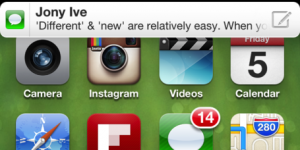 Once you install the Anemo tweak theres no need to enable it or configure any options in the Settings app. Upon receiving a banner notification users can tap on the edit icon button in the right hand corner which will reveal the Anemo interface. After sending a message you will notice that you will never leave the application you're currently in.
After the release of Anemo we can expect further updates that will add more features, like the tweak MiniPlayer.
I chose Intelliscreen X which has Messages+ over BiteSMS, because I felt like Messages+ seemed simpler and felt native to the iOS. After seeing Anemo, I personally am looking forward to removing Intelliscreen X, adding a Notification Center tweak for the lockscreen like LockInfo or even Bulletin and installing this new Quick Reply tweak. Anemo seems to be a little sexier version of Messages+
It's yet to be known if there is a quick compose option or if it's compatible with iPad. Let us know what you think of Anemo thus far in the comment section.