One of the best ways to conserve battery power on your iPhone is not to disable every conceivable feature that makes your iPhone… well, an iPhone, it is to smartly enable and disable AirPlane mode. The only downside to this is a lot of people find this tedious and don't do it.
A new Cydia tweak has recently landed onto Cydia called AirplaneScheduler that allows you to set AirPlane mode schedules for when you want AirPlane mode enabled. This is sort of like how you can set Do Not Disturb mode schedules. According to the tweak's official description "AirplaneSchedular allows you to schedule the activation and deactivation of airplane mode… which can significantly improve your battery life."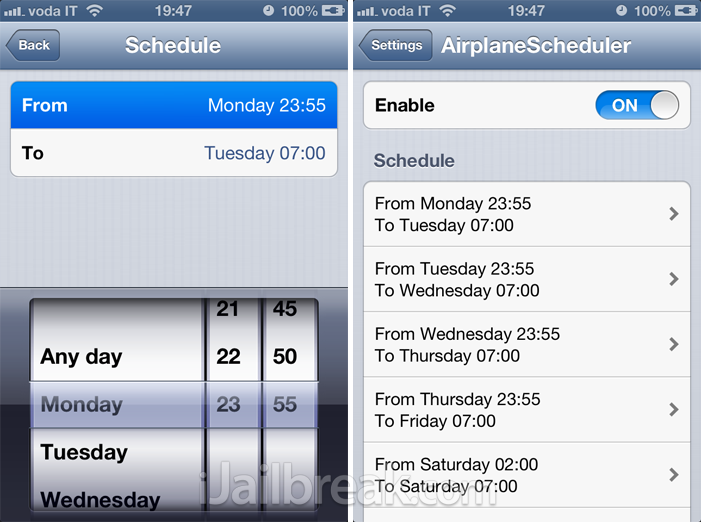 I am going to be honest, this tweak isn't for everyone, especially because it is a paid tweak. If you have a job where you absolutely cannot use your phone during your shift then this AirplaneScheduler might actually be useful as you can set it to activate AirPlane mode during your period, deactivate during your lunch break and then reactivate after it is over. Another scenario where this tweak will be useful is of course at night, as you can set airplane mode to automatically engage, say at midnight and deactivate just before you wake up.
AirplaneScheduler costs $1.49 in the Cydia Store via ModMyi, and at that price you need to decide whether having the ability to set AirPlane mode schedules is really worth it to you or not. Launching the Settings app or downloading SBSettings with an Airplane mode toggle is also not a bad alternative either.
Do you think AirplaneScheduler is worth the money? Let us know in the comments section below.