Today a new battery tweak was released into Cydia that is really quite useful. Generally battery tweaks for your iDevice are very simple tweaks, that simply allow you to customize battery warning notifications. BatteryDetective however is a very unique tweak that has the ability to test the amount of battery drain that background applications are pulling. Besides the ability to to test the amount of battery drain on background applications, BatteryDectective can also be used to test the amount of battery drain on different iDevice settings. BatteryDetective is definitely one of those tweaks that should be installed on all jailbroken iDevices.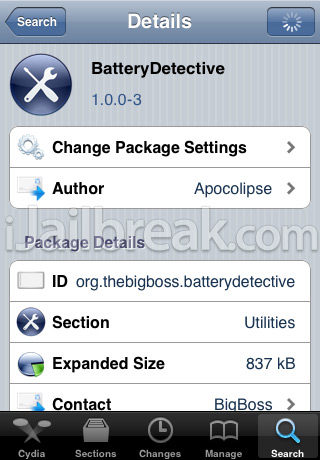 BatteryDetective can also be paired with SBSettings to allow you to greater visualize where your battery life is going! And besides providing very accurate stats on how different applications and settings affect your battery life, BatteryDetective also provides you with realtime details about how long your battery will last for. If you are interested in the BatteryDetective, it is available through the Cydia Store for a price of $1.99.
Note: BatteryDetective is only compatible with newer iDevices such as the iPhone 4, iPhone 3Gs or the iPad.