BatteryDetective: Test Your iPhone, iPod Touch, iPad Battery Drain
Today a new battery tweak was released into Cydia that is really quite useful. Generally battery tweaks for your iDevice are very simple tweaks, that simply allow you to customize battery warning notifications. BatteryDetective however is a very unique tweak that has the ability to test the amount of battery drain that background applications are pulling. Besides the ability to to test the amount of battery drain on background applications, BatteryDectective can also be used to test the amount of battery drain on different iDevice settings. BatteryDetective is definitely one of those tweaks that should be installed on all jailbroken iDevices.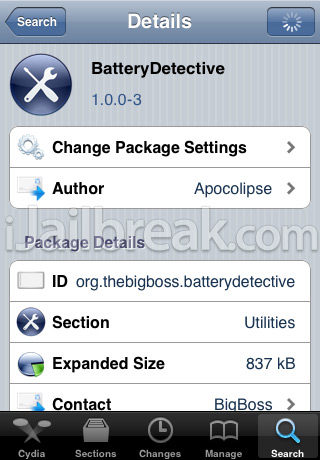 BatteryDetective can also be paired with SBSettings to allow you to greater visualize where your battery life is going! And besides providing very accurate stats on how different applications and settings affect your battery life, BatteryDetective also provides you with realtime details about how long your battery will last for. If you are interested in the BatteryDetective, it is available through the Cydia Store for a price of $1.99.
Plugged In: Launch Specific Apps When You Plug iPhone, iPad, iPod Touch In
A new tweak has just been released into Cydia that lets you specify certain apps to launch when your plug your iDevice into a power source. This tweak is called Plugged In and is really useful if you happen to have an iDevice dock. You see if you do have an iDevice dock, you can set for example the alarm app to always launch when you plug your iDevice in, thus making your iDevice a better alarm clock. While this isn't the only use for the Plugged In tweak, you can see that this tweak can be used for many purposes.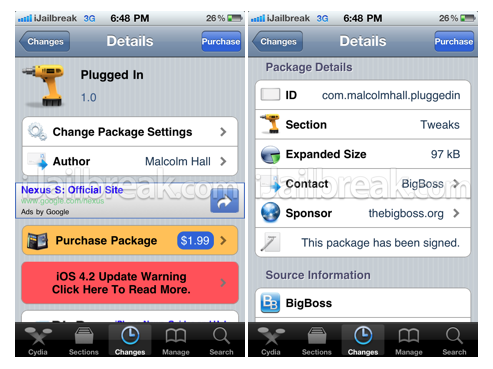 If you are interested in the Plugged in tweak it is available through the Cydia store for a price of $1.99.
Mail Rules: Specify Configurable Rules For Your Mail
A new tweak was released into Cydia today that allows you to apply rules to new mail as it arrives. This tweak is called Mail Rules, and it is a very beneficial tweak for all of you users who constantly use your iDevice's built in mail.app! You see with this tweak, you can apply advanced rules to all incoming emails. For example if you wanted emails from say your friend "bob" to be sent automatically to a certain mail folder, Mail Rules would handle this for you. Alternatively if you were receiving spam mail from a certain email address, you could configure the tweak to automatically delete all emails from that particular sender.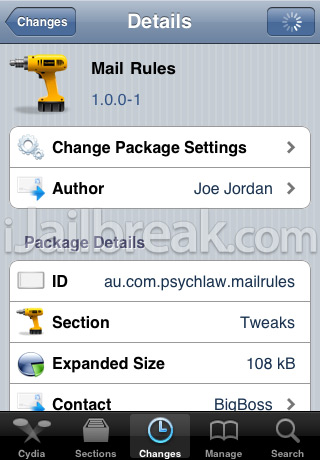 As you can see this is an extensively developed tweak that will allow you to take greater control of your mail. This tweak supports a wide variety of actions that are not limited to the examples I gave above. Mail Rules natively supports the following:
Matching on the following Criteria:
Account
Headers
Recipient
Sender
Supported actions:
Delete Message
Mark as Read
Mark as Unread
Copy to Folder
Move to Folder
Stop processing Rules
If you are interested in the jailbreak tweak, it is available through the Cydia Store for a price of $1.99!
AirFlick: Dynamically Stream Any File Type To Apple TV
Today Tuaw has reported that another tweak was released for use with the AppleTV called AirFlick. This new tweak opens up your AppleTV 2G to the potential of real-time transcoding of otherwise unsupported file types into Apple TV compatible data. Meaning that you can stream any type of video file from your Mac to your AppleTV! AirFlick  also allows you to open videos located on the Internet by pasting a video URL into the Airflick.app and clicking the play button. You can take a look at AirFlick in action by watching the official YouTube video below…
AirFlick works by transforming your Mac into a web browser, the same way AirPlay works on your iPhone or other iOS device. For Mac-based files, AirFlick tells your Apple TV to connect to a local URL and serves the data that the Apple TV plays back. So long as those files are in a supported format such as mp4, m4v, mp3, etc, the Apple TV can read and display the file data. Right now Airflick is in alpha testing, which means if you decide to test out AirFlick, except errors to arise.
For complete instructions on how to set-up the Airflick app please go to Erica's official website.