While the iPad supports native portrait and landscape orientations at the homescreen, the iPhone is left with only portrait orientation support. Wouldn't it be great, if just like the iPad your iPhone supported both portrait and landscape orientation?
If you you answered yes to this question, then you will be excited to hear that a new tweak has just been released into Cydia called SBRotator. Similar to SpringBoard Rotator, this tweak will bring native landscape orientation to your iPhone's homescreen. With native Landscape orientation enabled, your iPhone truly feels complete. As not only is SBRotator extremely smooth, I have not encountered any bugs while using it.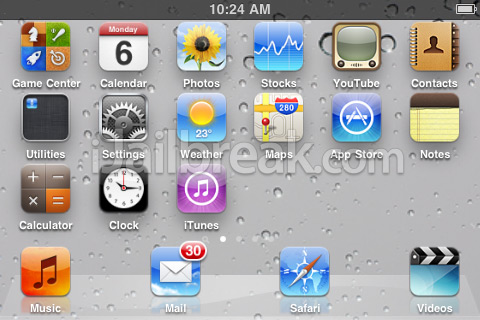 With so many configurable options and extended functionality to my iPhone purchasing SBRotator seemed like a no brainer. If you are interested in the new tweak it is available for $1.99 via Cydia. SBRotator also comes in two different packages, one for the iOS firmware generation and one for 3xx firmware generation. And if you buy it today (Sunday, December 5) , you will get ScrollingBoard for free, which will add scrolling functionality to your folders!
Note: Upon first installing SBRotator, you will notice that your icons will be placed on top of each other. In order to space your icons out like I did in the screenshot above, you will simply need to go into the Settings.app and configure it properly. This simply involves changing your icon size to a minimum of 85%, and also enabling the 4×4 iPad style layout.
Update #1: Be sure to check out SBRotator 5.