BusyBar: The Easiest Way To Return To Important Apps
BusyBar is a new tweak that hit Cydia the last couple days and in case you missed it, this tweak will allow you to easily return to a previous application, if was necessary for you to exit that application for whatever the reason. In order to activate BusyBar one must simply specify an activator command, which will make an in-call status bar appear, then exit the application and do as you please. Simply tap the in-call bar when you want to return to the previous application you had open, or use the same activator command to dismiss the tweak.
If you are interested in the BusyBar tweak you will be able to find it through Cydia for free!
Alarming: No Longer Worry About Over Sleeping Again
Have you ever overslept because you had forgotten to turn your iDevice's volume up before you went to sleep? I know for one I have, and this is why when I saw the Alarming tweak I was excited to share it with you all. Alarming is not necessarily a brand new tweak, but it hit Cydia the last couple days and I thought it would be a good idea to share it with you all. What does the tweak do? Well, it will automatically turn your ringer volume up to full when an alarm rings and then when the alarm is dismissed it will return to your old volume settings. A great tweak that will benefit anyone who uses their iDevice as their alarm clock.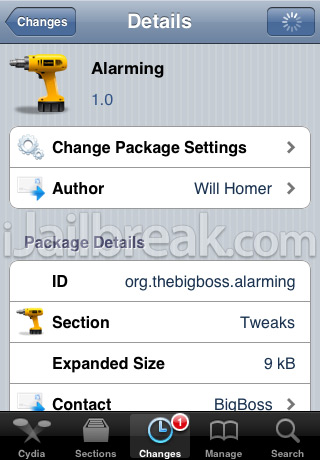 If you are interested in the Alarming tweak make sure you check it out on the Cydia store for a price of $0.99!
Back to Top Contact: Best Tweak For Those Of You With Many Contacts
If you are an iPhone user who has a lot of contacts you might find the Back to Top Contact tweak useful. You see the tweak will automatically scroll all of your contact lists (Favourite, Recent and Contacts) up to the top when launching the Phone.app. Meaning that you don't need to tap on the statusbar anymore to scroll your list of contacts to the top. Though this tweak may only provide a minor alteration to your iPhone, it is still very useful and can make you more productive throughout the day.
If you are interested in the Back to Top Contact tweak it is available through Cydia for a free.
ScrollingBoard: Web Browsing Directly Through Your SpringBoard
Wow let me tell you this is probably one of my favorite jailbroken SpringBoard modifications yet! In fact I am surprised this addon only came to my attention this morning. You see with a new ScrollingBoard addon (ScrollingBoard is a tweak that allows you to have unlimited icons within folders, the dock and SpringBoard) called "Web Browsers ScrollingBoard Addon" you can browse the web directly on your SpringBoard.
When you install this ScrollingBoard addon a new page will be opened up on your iDevice that will be dedicated to a built in browser. While you are viewing this SpringBoard page you can browse the web just like through MobileSafari. There is not limitations, you can have a full browsing experience without even launching MobileSafari.
If you are interested in having a browser directly integrated into your springboard you will need to first purchase ScrollingBoard for $1.50 through the Cydia Store. Once you purchase ScrollingBoard you can install this free SpringBoard browsing addon through Cydia and activate it through the ScrollingBoard settings (located in the settings.app).
FolderEnhancer: Sub-Folders And Pages
FolderEnhancer lets you put folders inside another folder, or as you will. If you want a folder in a folder in a folder in a folder, go right ahead. FolderEnhancer and ScrollingBoard and two tweaks that are the perfect match for one another, and are a great addition to any device. Both include a spot in your settings where you can customize the options, such as bounce force and effects.
FolderEnhancer will run at $2.49, but is well worth the tiny cost if you're a neat-freak like me.