If you have an iPod Touch 2G, today is your lucky day as a new app called features is here to enable iOS 4 functions on your device. Features is a great new tweak that allows you to easily enable and disable iOS 4 features on the iPod Touch 2G without having to re-run RedSn0w. This means you can enable blocked features such as multitasking and home-screen wallpaper. This new tweak also allows you to create a unified iPod app just like on the iPhone (meaning music and videos will be combined in one app – iPod).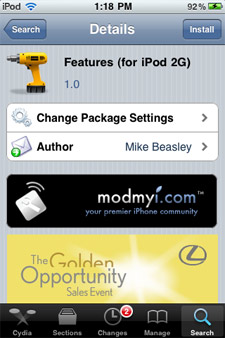 If you download this tweak to your iPod Touch you will be able to toggle these settings through WinterBoard. If you do not have WinterBoard installed you will need to install it to be able to use this new tweak. Here is a list of the available features you will have the option of enabling:
Multitasking
Homescreen Wallpapers
Percentage Battery
Unified iPod
Please note that if you have used RedSn0w to enable any iOS 4 features , you will need to re-run RedSn0w and disable them before using this app. If you are interested in downloading this app for yourself, simply type in features into the search pane via Cydia.