Earlier today we told you that a patch called isslfix was released into Cydia that can act as a replacement for the iOS 4.3.5 firmware. Allowing users to maintain their untethered Jailbreak while still having the peace of mind knowing their sensitive information is safe and secure.
While installing the isslfix Cydia patch is not necessarily a complicated process, we have created a How-To guide for anyone who would like help with the process. In this step-by-step guide we will show you how to fix SSL vulnerability on iPhone, iPod Touch and iPad not running iOS 4.3.5 using isslfix Cydia tweak.
Note: If your iPhone, iPod Touch or iPad is not jailbroken you can follow our how to jailbreak guides by clicking here.
Step 1: The first thing you are going to do is launch Cydia from your iDevices SpringBoard.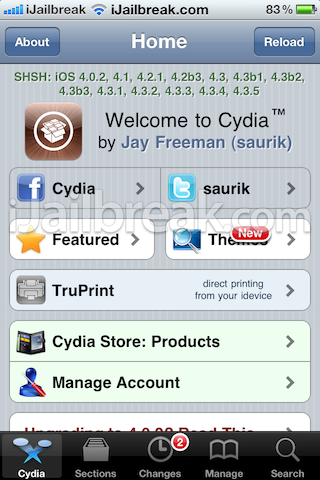 Step 2: Tap the "Search" tab located on the bottom tab bar and search for "isslfix".
Step 3: Once "isslfix" appears, tap it.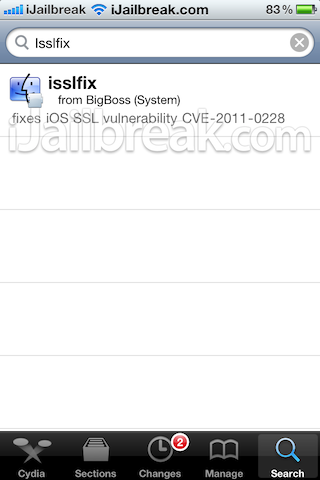 Step 4: You should see version 1.0. Tap "Install".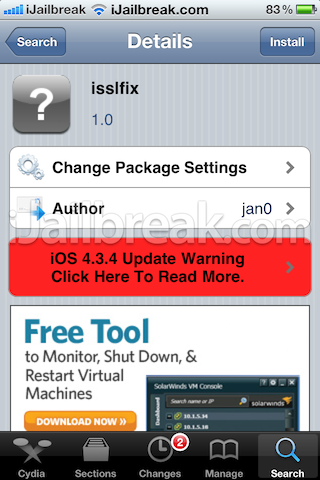 Step 5: Tap "Confirm" in the right corner.
Step 6: You should now see "isslfix" package being installed. Once installation is done, reboot your iDevice.
Voila! You're done! Enjoy.
For more how to guides from iJailbreak.com check out our how to section by clicking here. Let us know if you have any questions in the comments section below….