Here's a new streaming app that lets you watch free movies, tv shows, cartoons etc. on your iPhone, iPod Touch, iPad free of cost. The app, called PlayBox HD, is certainly not the first of its kind. However, it is super easy to use and offers a long list of new movies and tv shows.

PlayBox is available for both iOS and Android, but you will not find it on the App Store (see update #1 below), for obvious reasons. The interface is easy to use and all you need to do is select a movie, choose a stream and start watching. The app supports both Apple TV and Chromecast streaming, which means you can stream the content from your iOS or Android device to your TV.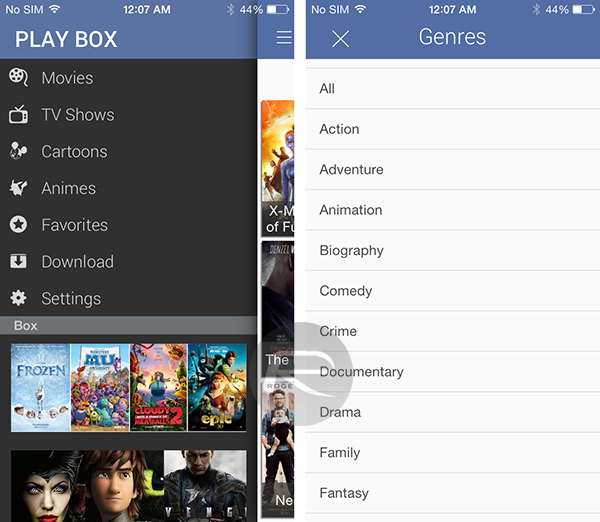 Here's the full list of features available on the PlayBox app:
Daily updates, many sources with quality to play.
You can use app with any mobile network connections 2G/3G/4G or WiFi.
Support Kids Mode for your children.
Support subtitle with all language.
App supports multiple languages.
Download videos right from YouTube.
Contact and request movies.
You can also download movies to your iPhone, iPod Touch, iPad and watch it later. The best part about this app is that you don't need a jailbroken device to install it. Simply head over to www.Playboxhd.com from your iOS device and download the app from the link provided in the page.
Let us know what you think of this app in the comments.
Update #1: PlayBox HD is no longer available on the App Store, which means these how to steps no longer work.
How To Download PlayBox HD For iOS From App Store
Step 1) The first thing you'll want to do is download the PlayBox HD app from App Store.
Step 2) Launch the app and then tap on the Settings button located in the Menu.
Step 3) Now you'll tap on Contact Us, which then a pop-up window appears and you can email the developer for activation request.
Note: There will be some device codes already in the message. DON'T delete these codes!
Step4) Once you've sent the email, allow up to 24 hours for the activation process to be completed. Once it's been activated, you'll see a pop-up confirming that the app is ready