Lock Screen Weather App: Add The Weather Forecast To Your Lockscreen Without Jailbreaking
Would you like an easy way to add a live weather forecast to the lockscreen of your iOS Device? Well, if you answered yes to this question you will be glad to know that a new application has been released into the AppStore called Lock Screen Weather. This application will actually place a live weather feed on your iPhone, iPod Touch or iPad's lockscreen that upon being tapped on will take you to the stock iOS weather app.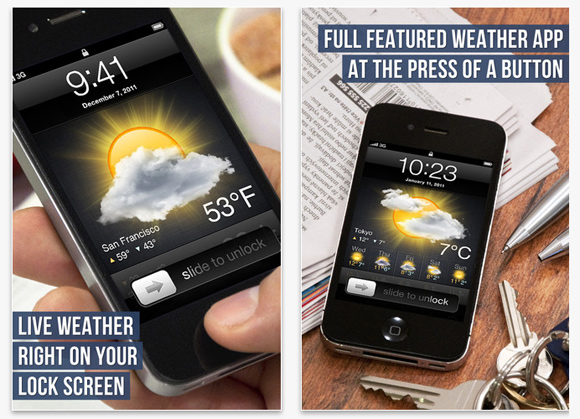 The Lock Screen Weather application may seem like it is an application the should not of been approved, and we are with you on this one. We are not sure how long this application will last in the AppStore, due to the method on how this application places live weather on your lockscreen. Which basically involves looping a sound file in the background that some people are reporting is unreliable and can become a troublesome as this application is disabled when listening to music.
If you are interested in testing the Lock Screen Weather application to add a live weather feed to your non-Jailbroken iOS Device, you can head on over to the AppStore and purchase it for a price of $0.99 by clicking here. Let us know what you think of the Lock Screen Weather application in the comments section below…
Make sure you stay subscribed through our social media feeds, so that you never miss a beat, by liking us on Facebook, following us on Twitter and joining our circle on Google+.
Hey, you! Join the iJailbreak Insider for weekly newsletters, Jailbreak alerts, contests and more. (No spam, we promise)