It has been a long time since we have posted anything about the Samsung Galaxy S IV and as early reviews have just started pouring in I thought I would share what some of the web's biggest media giants had to say about Samsung's new flagship smartphone.
In case you can't quite remember how the Samsung Galaxy S IV distinguishes itself over its predecessor… it features a 5-inch AMOLED display with a 1080p (441ppi) resolution and is powered by a hefty 2,600 mAh battery.
The Galaxy S IV comes with 2GB of RAM, 16GB of internal storage with an added expansion slot, 13 megapixel front facing camera, 2 megapixel rear-facing camera, 4G LTE, Wi-Fi a/b/g/n/ac, Bluetooth 4.0, IR LED, Temperature and humidity sensors and runs Android 4.2.2 (Jelly Bean). As for its processor it features a Samsung Exynos 5 Octa processor, but not all models will have this 8-core powerhouse of a CPU, some regions will only get a quad-core processor.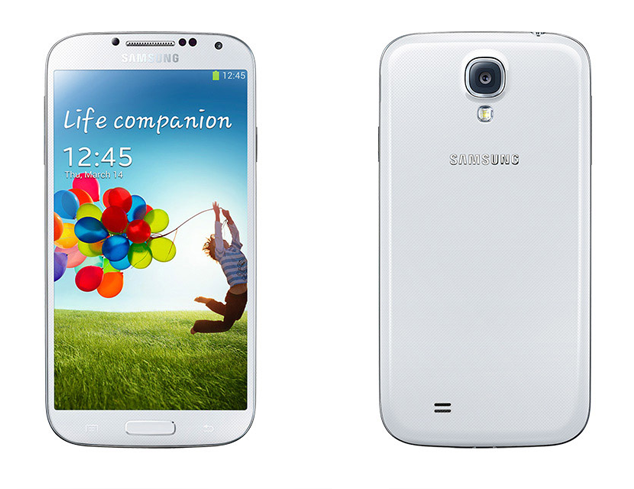 As you can see the Galaxy S IV is a powerhouse when it comes to pure specs, but how does it perform in real life situations? I will turn it over to Tech Crunch to lay down their thoughts first…
It'd be foolish to think that the Galaxy S4 isn't a top-notch phone. Where specs, performance and software innovation are concerned, the company is clearly making strides. But in playing with this phone for a while, adjusting to the new features, trying to make the most of them, and sometimes failing miserably, I keep returning to the idea of "Keep it simple, stupid."

The Galaxy S4 features are impressive — there's no denying it. But very few of them work perfectly enough for it to feel natural. Maybe it's because my time with the GS4 is only beginning (I received it one week ago), but I felt like I was forcing it.
Essentially Tech Crunch concluded that Samsung just tried to pack too much into the Samsung Galaxy S IV and Mashable has found the same thing.
I've written nearly 3,000 words thus far, and I haven't even mentioned every feature on the phone — including stuff such as the optical reader, Group Play for sharing music and games, the cloud backup and restore service or KNOX security. If I have one criticism of the phone, it's that there is too much here, and the execution isn't even throughout. I would have almost preferred if Samsung focused on half of the features it put into the phone and really made sure they were awesome, rather than throwing everything into the mix.

It's great to have a huge feature list for ads or for spec comparisons, but none of that matters if you aren't actually going to use the features in day-to-day life.
This isn't to say that having a ton of features is a bad thing, it's just that a lot of the Samsung Galaxy S IV's features feel almost like one-time gimmicks. Check out Android Central's closing thoughts:
If you're looking for an Android phone that performs well across the board, ticks every feature box you could possibly imagine and is available on just about every carrier on the planet, the Galaxy S4 is an easy recommendation. But this time around it's clear Samsung has merely stacked incremental updates — mostly features and internal hardware — upon its earlier flagship, rather than addressing that device's issues and rethinking what a smartphone should be in 2013. For some folks, that's fine. For others, more exciting products await elsewhere.
The Verge gave the Samsung Galaxy S IV an 8 out of 10, but ended their review with the tagline "all the technology in the world can't cover up bad design."
I ended my HTC One review by saying there were two Android phones worth buying, the One and the Nexus 4. That number is now very clearly three, but I had hoped against hope that Samsung would emerge the undisputed winner.

I don't need more cores, more gigahertz, or more software features that ostensibly help me use my phone more easily. I need a phone that feels good in my hand, looks good on my desk, does everything I expect it to, and gives me no reason to think it won't last the life of my two-year contract. I bought an iPhone 5 because last fall it was the only phone that fit that bill — now there are several Android options as well, and they're good enough to make me want to switch back to Google's OS.

For now, it's a choice every buyer will have to make. You can have the far better-looking phone or you can have the slightly better-performing phone — and you really can't choose wrong.
In case you are wondering The Verge is referring to the Galaxy S IV's plastic body that makes the smartphone feel cheap. TechRadar has probably done the best job at summing up the Galxy S IV and we will close with their throughts.
Looking so similar to the Galaxy S3, you can't help but feel Samsung has gone a little too Apple and created something more in keeping with the Samsung Galaxy S3S – a minor update to a great phone to keep those coming out of contract happy that they have a premium phone to upgrade to.

We do implore you to get the phone in your hand before making a judgement though – while it's not got the best design on the market when it comes to materials, it's a big step forward compared to the Galaxy S3 and allows for a grippy and easy-to-hold phone, with a whopping screen inside.

To just dismiss it for being plastic would be doing the S4 a disservice as it has so much more going for it than that, but it's worth remembering that to a lot of people, the way a phone looks is as important as how much RAM it's got on board and how fast the CPU is – if not more so.
The Galaxy S IV is without a doubt a powerhouse of a smartphone. It has some of the best specs on the market and has more features than you can shake a stick at. Unfortunately, however, more is not always better and a lot of the Galaxy S IV features will never be used, there is more performance than is probably necessary and the design is not very pleasing compared to other smartphones like the HTC One and iPhone 5.
What is your take on the Galaxy S IV? Will you still be interested in upgrading? Let us know in the comments section.