The first iPhone was released in June, 2007. Now, there have been ten generations of iPhones. With every new model comes new and better features, including better sounding loudspeakers. So, which iPhone has the best loudspeaker and is the loudest of the lot? Let's find out.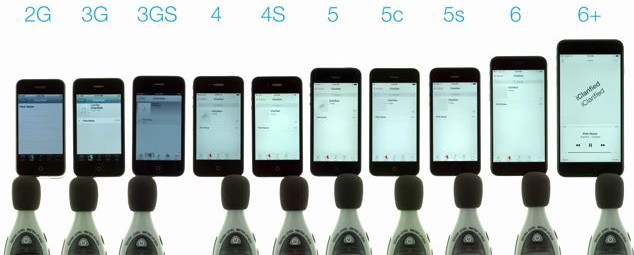 One would think that the iPhone speaker volume would've gotten better with every model. That, however, isn't the case according to this test. The folks over at iClarified performed the loudspeaker test on all the models of the iPhone starting from the iPhone 1st gen to the newest iPhone 6 Plus.
The test was performed using decibel meters, which were placed directly under the speaker of each of the iPhone. Then, a sound was played at full volume and the results compared. Check out the full test below:
As it turns out, the iPhone 6 is the loudest of them all with a decibel reading of 105.4 dBA, which is 10 dBA more from the first iPhone. Another thing to be noted is that the iPhone 3GS is louder than the iPhone 4, 4S and 5c. Impressive!
Nevertheless, Apple's latest iPhones are the loudest of the lot and that's a good thing.