We talked about the upcoming Steve Jobs biopic, titled JOBS, quite a bit leading up to its premiere at the Sundance film festival, and now that the film has indeed been shown reviews are starting to pour in throughout the web. JOBS shouldn't be confused with the high-budget version Sony is working on, rather JOBS was directed by Joshua Michael Stern and starred Ashton Kutcher as Steve Jobs.
The number one question on a lot of people's minds was could Ashton Kutcher portray Steve Jobs correctly and after watching a 2 minute teaser clip he indeed seemed to fit the roll. What did the people who actually watched the entire movie think though? Well find out for yourself by reading some snippets from around the web, starting with Forbes.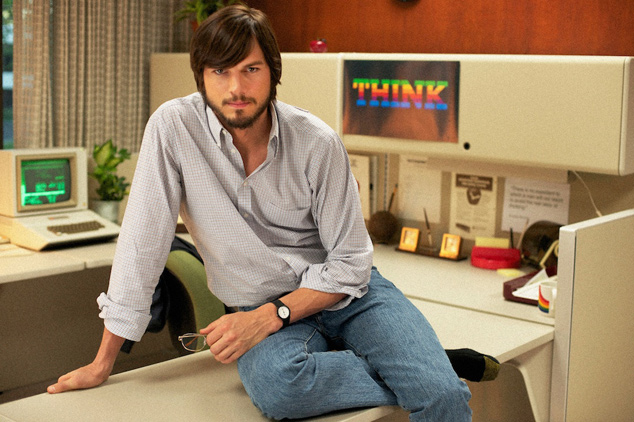 Forbes: Steve Jobs' Biopic Is 'Saccharine,' 'Entertaining But Flawed,' 'Made-For-TV'
While Ashton Kutcher is getting approving nods for his portrayal of Steve Jobs' in the new biopic Jobs(former called jOBS), reviewers are mixed but mostly unimpressed with the film's take on the Apple's co-founder early life.
SlashFilm: Ashton Kutcher Plays Steve Jobs, But We Don't Get To Know Steve Jobs
Ashton Kutcher plays the title role and does a good job at making you forget there's a big star under the beard and glasses. It's the script by Matt Whiteley, however, where the cracks begin to show. Jobs is so hell-bent on cramming all these seminal moments into one film, it never builds much context around them. We never feel like they mean anything or understand the "why" about the big moments. The film loves to tell us things, but never quite explains any in a satisfactory way. The resulting product is an entertaining but flawed take on the man who co-created Apple….Apple fans are going to be very mixed on Jobs. On one hand here's the story they've been dying to see, on screen, and it looks great. But the film feels slight because it tries to do too much. The effort is there and the film is entertaining, but it feels like the PC version of the story instead of the Apple.
CNET: While "jOBS" fawns over subject, film falls flat
The movie gives it a shot. Kutcher drew skepticism when he was announced as the film's lead, despite an uncanny resemblance to the man he would be playing. But he throws himself into the role, inhabiting Jobs in his mannerisms and gestures while doing a more than creditable impression of the man's voice. Kutcher also captures Jobs' deliberate, slightly hunched-over walk. At moments, as during an enjoyable sequence in which Jobs recruits members for the Macintosh team, Kutcher disappears into the role.
TheNextWeb: jOBS is an entertaining, if impressionistic, portrait of Steve Jobs as a young man
Overall, jOBS works. The lead actors are likable and appear to have put serious effort into getting the spirit of the characters right. The film looks (mostly) good aside from some of what could likely be ascribed to budgetary constraints. And though the director is a tad indulgent here and there, it doesn't take away from the overall feeling of 'decent' that I came away with.
IndieWire: Ashton Kutcher Does A Solid Steve in 'jOBS,' But Is This Tame Biopic a Lost Cause From the Start?
Stylishly realized despite its unsophisticated storyline, Jobs has been shot by Russell Carpenter with brightly lit images that accentuate the eponymous innovator's constant motivation. That achievement is complemented by Kutcher's committed performance, certainly his most impressive turn in years, which conveys the character's focused, manipulative intentions in each calculated look. It is a tame biopic. But Matt Whiteley's by-the-numbers screenplay, which tracks Jobs from his slacker days as a college dropout to the launching of Apple computers in his parents garage and eventual transformation into billionaire CEO, can't keep pace. Shifting through bullet points of moments from Jobs' life, the story maintains the subtleties of a made-for-TV movie and relates an origin tale with a superficiality one could obtain through a cursory browsing of Jobs' Wikipedia page.
Considering that the team behind JOBS had almost no budget, and had Ashton Kutcher as its lead actor, I think they did pretty good. Even though the reviews came out mediocre, accurately portraying Steve Jobs is no easy feat, it will be interesting to see how Sony's approach differs from JOBS. The movie will hit theatres for public viewing on April 19th, are you still looking forward to it?