Have you been facing issues with your iOS devices battery life after updating to iOS 8.4.1? Well, you are not alone. Several iOS users are complaining that the battery life on their devices have taken a hit.
After upgrading to iOS 8.4.1, if you have had battery drain issues on your iPhone, iPod Touch or iPad, then don't worry. There are certain ways you can try and fix the issue to get the most out of the battery.
Every version of iOS has a few bugs, but the most common one is the battery drain problem.
Almost every version of Apples' mobile operating system since iOS 7 has been plagued with the battery drain issue. Sometimes it's bad, sometimes it's not.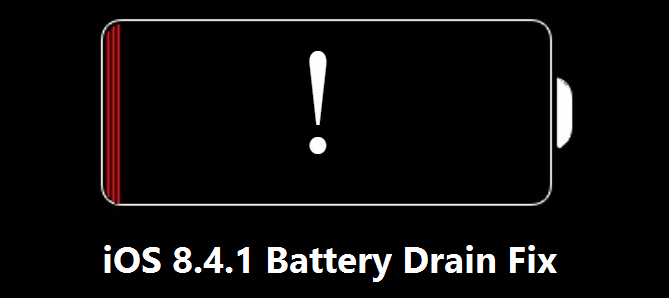 Here are some ways to fix battery drain issues in iOS 8.4.1:
Perform a Hard Reboot by holding the Power and Home button till your iOS device vibrates and restarts automatically.
Reset all your settings to iOS defaults, data will not be erased.
Do a Restore/Clean Install of iOS 8.4.1 by downloading the respective IPSW file for your iOS device. Performing a Clean Install/Restore will sometimes help improve battery life.
Make sure Location Services isn't enabled all the time.
If, after performing all the steps above, the battery drain is still bad, then you may need to take your iOS device to the Apple Store.
Have you been facing battery drain issues in iOS 8.4.1? Did any of the above methods help improve battery life? Let us know in the comments section.