While you wouldn't want to leave your headphones home, lose your stereo adapter, or rely on your phone's speaker's full time, sometimes your phone is all you have. The thing is, the speakers that phone manufactures manage to cram into thinner and thinner smart phones has a lot working against volume and sound quality. iClarified ran a video test measuring the volume output of the entire iPhone line, from the original iPhone '2G' up to the iPhone 5. Each phone plays a clip of 'pink noise' and is measured by a decibel meter.
Two things to keep in mind: 1) Decibels are logarithmic units and not linear, so 20dB isn't double 10dB in power output, it's ten times 10dB. 2) The recordings were done at point blank range. If you put your ear right against your phone's speaker, it's going to seem a lot louder than normal listening distance.
Here's what they recorded
Results:
● iPhone 2G: 91.0 dBA
● iPhone 3G: 95.0 dBA
● iPhone 3GS: 97.6 dBA
● iPhone 4: 92.8 dBA
● iPhone 4S: 97.9 dBA
● iPhone 5: 100.3 dBA
According to the results the iPhone line got progressively louder from the iPhone 2G to the iPhone 5, except for a dip in the iPhone 4. The jump from the iPhone 4 to the iPhone 5 could help you tune out city traffic from inside a car (according to this handy comparison chart, 85dB). The iPhone 3GS, the iPhone 4S, and the iPhone 5 are louder at point-blank range than a jackhammer at 50′, and pressing your ear against the bottom speaker of any iPhone at maximum volume for a sustained exposure should be enough to cause permanent hearing loss (90-95dB). I certainly didn't know that, but I'll be keeping my ears away from the bottom speaker from now on.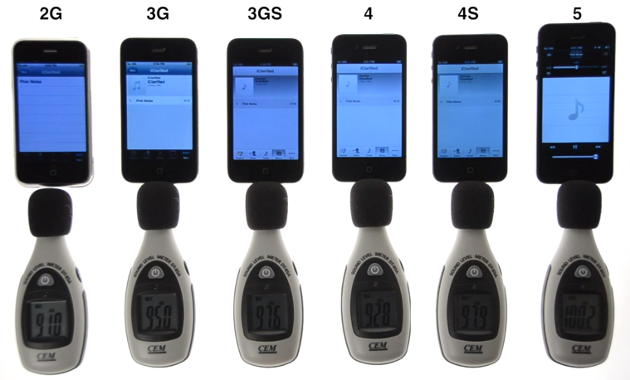 Of course, it's not fair to say that volume is the most important measure of a speaker's acoustic quality, but what do you expect from phone speakers? If you want to share a video clip in a loud environment, you'll want your phone to be as loud as possible, quality be damned.
Do you find your phone's speaker is too quiet? Share your thoughts in the comments section below.