Without a doubt one of the big advantages to iMessages is that it has read receipts along with the ability to know when someone is typing back to you. This is of course in the form of a simple animation of three dancing dots and during an active conversation you can't help but stare at the dots until the message eventually comes through.
What if I told you that you could use this subtle animation to prank your friends though?
Well you indeed can, CNET is reporting about a simple little GIF image that when sent to anyone in an iMessage conversation with you will give the impression you are typing, when in reality it is just an image… as a result the person will be waiting and waiting for your reply with no avail.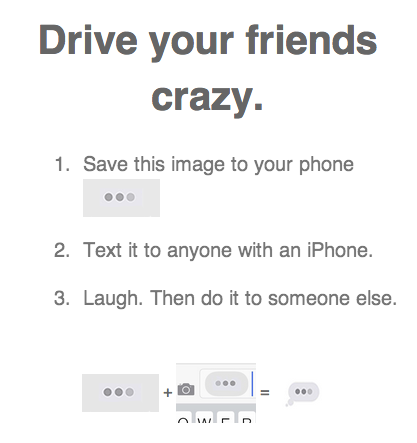 All you will need to do in order to pull off this prank is visit this page and save the GIF displayed under step 1 to your iPhone's camera roll by tapping the image until you are prompt to save it. Even though the image doesn't move in your camera roll it will be animated when you send it through iMessage. Then simple paste the image into any conversation and it will give the impression you are typing a REALLY long message.
The prank works better when you are in mid conversation with someone, rather than just sending it out of the blue and CNET also said "make sure the recipient is on an iPhone, not a Mac or iPad that's also using iMessage. The GIF doesn't appear at the right size on either device, and it's obvious that shenanigans are afoot."
Let us know if you utilized this typing GIF in the comments section below and what the result was.