Apple, at times, has been slow to release extra features that enhance product usage. Within Apple's summer release of OS X Mountain Lion, expect to see a highly in-demand feature called AirPlay Mirroring. This feature was actually pulled during Apple's release of OS X Lion without any rhyme or reason, but Apple comes through on Mountain Lion.
ijailbreak readers, you already know what I'm thinking. Apple is going to dominate the market of streaming from Mac to TV. Sure, there are many products on the market that can claim to achieve this, but these only come with many frustrating limitations and restraints that AirPlay Mirroring will eliminate.
"Your Mac is on TV. This new feature in Mountain Lion is made for an audience. With AirPlay Mirroring, you can stream what's on your Mac to your HDTV via Apple TV. Show web pages and videos to friends on the couch. Share lessons with a classroom. Present to a conference room. It's a big deal for your Mac. And for everyone around it." (apple.com)
With seamless integration and use, and the joy of even just one or two of the features such as watching movies or browsing the Internet on TV might just be enough to please the masses. "AirPlay Mirroring on the Mac helps make the most from your $99 set-top box, because you can keep movies on your Mac and stream them to your television without importing files to iTunes first."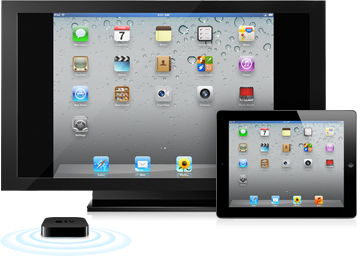 Apple has also recently been pushing Apple products into the education sector. I can see a great need for this service as many businesses charge big bucks for fancy features, which obviously prevents educators from taking advantage of technology that could really impact students. Apple has mastered product integration. I currently own six different Apple products and numerous other accessories, and each one has positively changed the way I interact with others. So this may come as no surprise, I plan to own an Apple TV and use AirPlay Mirroring.
Apple will be release many other great features with Mac OS X Mountain Lion. To see what those features will be, check out our articles on ijailbreak.com. Let me know what you think in the comment section below about AirPlay Mirroring.
Do you own an Apple TV or now plan on purchasing the device, and look forward to the release of AirPlay Mirroring through Mountain Lion OS X? Come on, I know you are all as pumped as I am for the release of many great things to come from Apple in 2012! Comment your enthusiasm below!