Along with the announcement of OS X Yosemite during WWDC 2014 earlier today, Apple also unveiled iOS 8. We've all been waiting for this update and it's finally here. According to Tim Cook, iOS 8 is actually two stories, one for end users and another for developers. iOS 8 is a major update and brings a lot of new features including improvements to Siri, better notifications, the Health app and a lot more.
Let's start with the Notification Center, which can now show third-party widgets in the 'Today' view. There's also something called Quick Reply that lets you interact with notifications. You can reply to a text, like/comment on a Facebook status or even bid up on an Ebay item. This works from the lockscreen as well, but widgets won't make it to the homescreen.
The iOS keyboard gets some new features as well. For starters, next word prediction/predictive typing is now part of the stock iOS 8 keyboard and is being called QuickType. Also, Apple is now allowing for third-party keyboards to be installed and used on iOS. Make way for Swype, Swiftkey and other advanced keyboards. QuickType also learns user habits and language, so it knows what you're about to type. It doesn't store anything though, for privacy reasons.

The Messages app now has the ability to send voice and video messages, location data, multiple photos and much more. Group messaging has been greatly improved, as you can now leave a group, change the name and turn on Do Not Disturb to mute an annoying group. You can also lift your iOS device to your ear to automatically record an audio message and reply when lowered.
Camera and Photos app get a set of new features and improvements. The Camera app now has two different settings for Exposure and Focus. A new Time Lapse mode is also found in the Camera app. The Photos app gets the ability to access Photos from any of your OS X or iOS devices with iCloud Photos. You can edit and add filters to your Photos with new composition tools, smart adjustments and filters. Searching is easier and better as you can search using album name, date, location, time across all your iOS devices.
As the rumors and reports suggested, Apple did announce a Health app and an Healthkit API. The Health app collects data from third-party accessories and apps and stores in one place. You can view data on heart rate, calories burned, blood sugar, cholesterol and much more.
Using the Healthkit API, developers can make apps gain access to data on your health and improve their apps. You can choose to share this data with your Doctor, so they can keep a tab on your health without you having to visit them occasionally.
Apple has improved the App Store app in iOS 8 by adding a new Explore tab and Trending searches. Search has been improved with a new continues crawl. Apps now include short video previews instead of just screenshots and you can now purchase apps in bundles.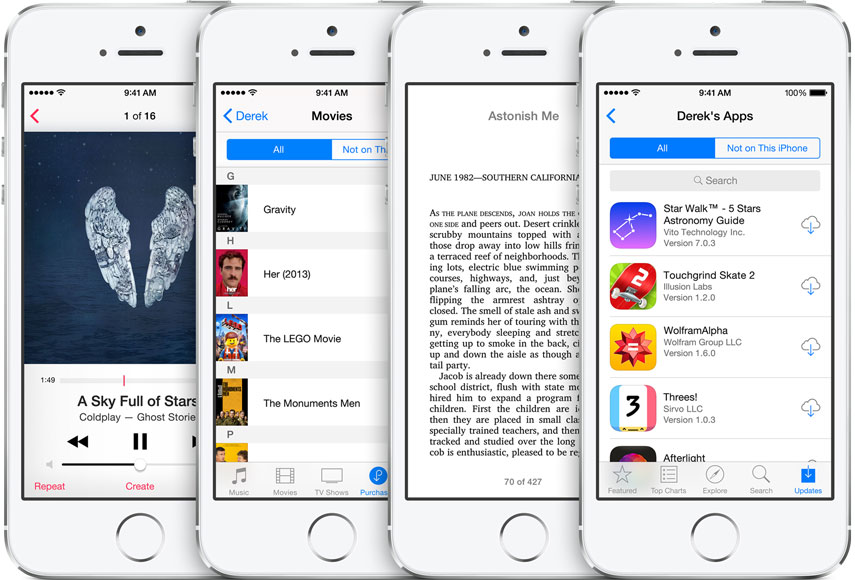 iOS 8 also comes with something known as Family Sharing where you can share iTunes purchases, iBooks, and the App Store without having to create new Apple ID's for each member. The same credit card can be used for one account and up to six members can be added. You can also share photos, calendars, reminder, and more with Family Sharing. Parents get full control and get to allow their kids to use their credit cards to purchase Apps, Music, Movies, etc.
As Tim Cook stated at the beginning of the iOS 8 announcement, this update is big for both users and developers. With that, Apple is giving developers access to Touch ID, Notification Center, Photos, Camera, Keyboard and much more. Developers will be able to utilize a new programming language Swift to create better apps.
Siri has been given some improvements, with the ability to purchase iTunes content, Shazam song recognition, 22 new dictation languages and more. You can now invoke Siri without having to touch your iOS device by simply saying 'Hey, Siri.' This works only when your device is plugged in, to save battery of course. Similar to the jailbreak tweak OkSiri.
Spotlight search has gotten better and comes with similar features found in OS X Yosemite. WiFi Calling lets you make a standard GSM voice call. FaceTime call waiting will let users to accept or reject FaceTime calls when they're on another FaceTime call. iOS 8 will provide battery usage by app, travel time notifications, DuckDuckGo support in web search and a Braille keyboard.
iOS 8 will support iPhone 4S and later, iPad 2 and later, iPad mini and iPod Touch 5th gen. A developer beta of iOS 8 is currently available for download. Full public release will happen later this fall. Here's the full Press Release from Apple.
What do you think of the iOS 8 update?