Jailbreak developer Ryan Petrich has successfully managed to port a working version of the old Google-powered Maps app to iOS 6. It's not 100 percent working yet, so you won't be able to get the older Maps app anytime soon. However, it will definitely be a better solution to the current problem that the new Apple Maps has created.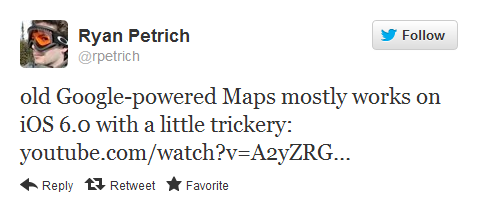 Ryan Petrich managed to port the old version of Google-powered Maps app to an iPhone 3GS running iOS 6. He tweeted the video demo of Google Maps running on iOS 6 and it looks legit. The port is not completely successful and not ready for distribution, as it crashes often and is very buggy.
Preview of the old Google Maps application from iOS5.1 and earlier running on an iPhone 3G S updated to iOS 6.0

Still crashy and cannot be distributed to the public yet, but it mostly works :)
Soon enough, this should be available in the jailbreak community. You can already jailbreak your iPhone 4/3GS etc. on iOS 6 and the jailbreak for iPhone 5 is under development. It should be available in Cydia very soon, hopefully you can all start using Google Maps like the old times. At least till Apple gets its own Maps app fixed. Watch the video after the break:
Who wants to get the old Google-powered Maps app in iOS 6? I'm pretty sure everyone wants that!