After Apple's iPhone keynote on September 10th, when it not only announced the iPhone 5s, but the iPhone 5c as well, the Fruit Company sent the two new handsets to a select group of journalists. And today the embargo on reviews has just been lifted, which means we are currently seeing a whole bunch of sites writing about their impressions of the new iPhones, along with iOS 7 as well.
Here are a roundup of excerpts from a number of the just-released reviews in order to paint a picture of what the consensus is towards Apple's new products.
iOS 7
Considering iOS 7 was just released today what better place to start than here? Here is what people are saying about Apple's radical new mobile operating system that some people hate and some people absolutely love.
Nick Heer, Pixel Envy:
This reminds me of the transition from Platinum to Aqua. Remember how prominent the pinstripes were in the early days? Remember how gratuitous the transparency was? Some long-time Macintosh users were uncomfortable with the new direction, while others love it. iOS 7 is Aqua. It's a fresh start, using new technologies which weren't available nor practical in 2007. It's going to change over the course of the next several years. But its foundations have been laid, and they are very strong.
Walt Mossberg, AllThingsD:
"Then there's the new operating system on this phone, called iOS 7. Its new look, new user interface and new functions represent the biggest overhaul to the iPhone's core software since the original model launched in 2007. Nearly everything has been improved, including multi-tasking, notifications, access to common controls, email, Web browsing and Siri. Like any big change, it's a shock at first, but I have come to like it and consider it a step forward, despite a few issues. "
David Pogue, The New York Times:
"The look of iOS 7 may grab you or not. But once the fuss about the visuals dies down, something even more important comes into focus: the work that's been done on making iOS better. The longer you spend with the new OS, the more you're grateful for the fixing and de-annoyifying on display. For example, you no longer have to burrow into infinitely nested Settings screens to adjust your control panels. Now you can just speak what you want, using Siri: "Open Wi-Fi settings," for example, or "Open brightness settings."
And Jim Dalrymple, The Loop:
"iOS 7 isn't a big change functionally from what we're all used to with iOS 6. Apple kept most of things we know about how to use the operating system and integrated them with the design. Of course, that is the big change with the new iOS—the look and feel are newer, some would say flatter. While we were all a bit shocked with the look when it was first introduced, it doesn't take long to adapt. In fact, there are many things I like better."
iPhone 5c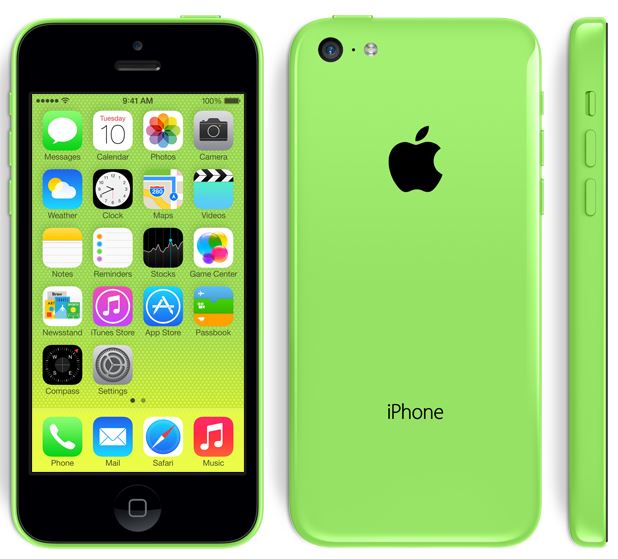 The iPhone 5c is Apple's new plastic iPhone that is less expensive than the iPhone 5s and comes in a ton of bright new color options. What are people saying about this colorful new iPhone? Find out below.
Lauren Goode, AllThingsD
The iPhone 5C has the same A6 processor and the same 4-inch Retina display as the iPhone 5. Colors on the 5C's display look warmer.

It's just slightly thicker and heavier than the iPhone 5. And while the 5C isn't as refined-looking as the iPhone 5 or the new 5S, it isn't a tacky plastic phone, either. I've tested plastic phones before, including the Samsung Galaxy S4 and the new Moto X from Motorola, and this phone feels more solid in the hand.
David Pogue, The New York Times
The budget model, the new iPhone 5C, comes in five colors ($100 for the 16-gigabyte model with a two-year contract, $550 without). It's essentially identical to last year's iPhone 5, except that its back and sides are a single piece of plastic instead of metal and glass.Actually, "plastic" isn't quite fair. The 5C's case is polycarbonate, lacquered like a glossy piano. Better yet, its back edges are curved for the first time since the iPhones of 2008. You can tell by touch which way it's facing in your pocket.

It's a terrific phone. The price is right. It will sell like hot cakes; the new iPhones go on sale Friday. But just sheathing last year's phone in shiny plastic isn't a stunning advance.
Jim Dalrymple, The Loop
There is absolutely no give to this phone at all. It doesn't bend or buckle anywhere in the casing, which is what you want, obviously. It feels as solid as the 5s.

The iPhone 5c doesn't actually feel like plastic. It's strange when you first pick it up, but it almost feels like ceramic or a similar material that is glossy and hard. The manufacturing process that Apple used to make this phone and the metal reinforcement it used in the plastic casing certainly worked on making this phone tough.
Myriam Joire, Engadget
We're not going to lie. The iPhone 5c is gorgeous – we'd even argue that it's the most beautiful iPhone since the 4 and 4s. It instantly makes the iPhone 5 and 5s look staid in comparison.

Sure, we prefer materials like aluminum and glass over plastic, and we appreciate the intricate craftsmanship that goes into building the iPhone 5 and 5s, but still, we can't help it – the 5c just triggers some reptilian part of our brains that screams, "OMG, color!"
Darrell Etherington, TechCrunch
To date, Apple's choice of materials has been one of its prime differentiating factors, at least from an aesthetics point of view, vs. the Android crop of competitors. So does dipping back into a polycarbonate shell threaten the image Apple has tried so hard to cultivate?

The answer is a resounding 'No.' Apple notes that the iPhone 5c is actually polycarbonate because it wanted to get the colors just right, and doing so in metal just wasn't feasible. Further, it points out that there's a steel frame (which doubles as an antenna) girding that polycarbonate shell, which results in a phone that feels sturdy in the hand, without the flex or perceived fragility of other plastic device designs.
iPhone 5s
Now the moment you have been waiting for. Will the iPhone 5s live up to all of its hype? How does Touch ID work in real life? Find out now.
David Pogue, The New York Times
The most heavily promoted feature is the 5S's fingerprint sensor, which, ingeniously, is built into the Home button. You push the Home button to wake the phone, leave your finger there another half second, and boom: you've unlocked a phone that nobody else can unlock, without the hassle of inputting the password. (And yes, a password is a hassle; half of smartphone users never bother setting one up.)

The best part is that it actually works — every single time, in my tests. It's nothing like the balky, infuriating fingerprint-reader efforts of earlier cellphones. It's genuinely awesome; the haters can go jump off a pier.
Walt Mossberg, AllThingsD
All my pictures were slightly sharper than on the iPhone 5 and low-light pictures were much less washed out by the flash. The camera app has been improved, with a new burst mode that takes many shots quickly and then picks the best ones, and a slow-motion video feature that lets you choose parts of an action sequence to slow down. It worked seamlessly.
Jim Dalrymple, The Loop
Setting up a fingerprint is as easy as resting your finger on the Home button and following the onscreen instructions. The button will vibrate when it's reading; lift your finger and rest it on the button again; and repeat until it's done. Very simple.

Speed increases are something we expect with new Apple products, but the iPhone 5s goes above and beyond expectations. In addition to the faster processor, the iPhone 5s is also the world's first 64-bit phone. These changes make the 5s up to twice as fast as the iPhone 5—that's a significant increase.
Darrell Etherington, TechCrunch
At first glance, it's easy to dismiss the fingerprint sensor as a whiz-bang feature designed to attract eyeballs and do little else. But this isn't that. The fingerprint sensor, unlike some other questionable recent smartphone tech like gesture control or eye-tracking, doesn't feel like a gimmick or tech demo; it feels like a mature feature that actually enhances the overall experience of using an iPhone in a noticeable way that you encounter very frequently.
Myriam Joire, Engadget
First, let's tackle the camera's low-light performance. The shots we took with the 5s were consistently better than what we took with the 5: they were sharper, with finer details, more natural colors and far less noise. As you might expect, our daylight shots were roughly on par, though there were a few times when the 5s won out by a slight margin, offering just a little more detail. All told, the 5s plays in the same league as all those other flagships with a bigger emphasis on imaging.

Even so, our sample shots still showed more noise and less detail than the same images taken with the Nokia Lumia 1020. The 5s also does a good job of reproducing color, but it's not the best performer in this category, either. Make no mistake, though: the iPhone has been – and continues to be – great as a simple grab-and-go camera. It may not be a best-in-class performer, but the vast majority of iPhone users will still be happy.
Scott Stein, CNET:
The Touch ID-enabled home button feels invisible; it works with a tap, can recognize your finger from many angles, and feels like it has less of a fail rate than fingerprint sensors I've used on laptops. It's impressive tech. It worked on all my fingers, and even my toe (I was curious).
There you have it! For the most part everything said about the iPhone 5s, iPhone 5c and iOS 7 has been positive, but it is obviously going to be in the hands of the consumer on how these new products really fare on the market.
As a reminder you can pre-order the iPhone 5c right now and it will be available in-stores on Friday. The iPhone 5s is unavailable to pre-order, but will also be available Friday. As for iOS 7 it has already been released and is available to download.