Late last night, a video surfaced on YouTube that compared a purported iPhone 6 case with an iPhone 5s, Nexus 5 and the Galaxy Note 3. In the last few weeks, several cases have been leaked that claim to be made for the upcoming iPhone 6. Unbox Therapy managed to get their hands on one such case and quickly made a video.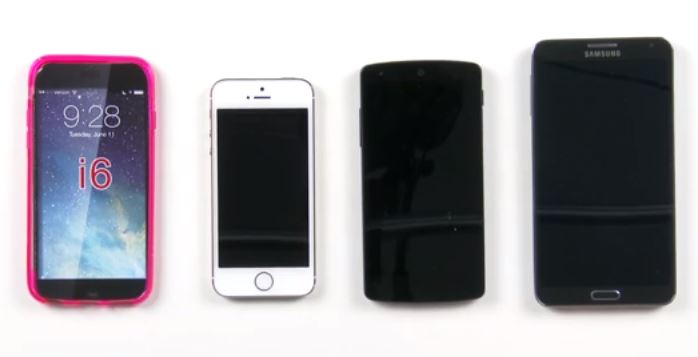 These leaked cases are all based on the iPhone 6 designs and blueprints that leaked earlier this month. The leaks suggested that the power button on the next iPhone would be placed on the right side. Thanks to these cases, you can now see what the iPhone 6 might look like compared to the iPhone 5s, LG Nexus 5 and the Samsung Galaxy Note 3.
The iPhone 6 case also features a dummy model and in comparison, is fairly larger than the iPhone 5s, similar in size to the Nexus 5 and smaller (obviously) than the Note 3. The case features a rounded design, like the iPod Touch, the bezels are very thin and the volume keys are merged into one. Check out the detailed comparison video below:
Apple is rumored to launch the iPhone 6, the 4.7-inch model, in September. The larger, 5.5-inch iPhone 6 or Air, will most likely see a 2015 debut according to a recent report.
Is the iPhone 6 too big for you? Or do you like how this dummy looks?