RIM is all set to announce its latest BlackBerry OS 10 and new devices running BB10 later this month. The company has been in the turmoil lately, but with BlackBerry 10 and the new devices, things are about to change for them. How does the BlackBerry Z10 running a test build of BB10 perform against the iPhone 5 in basic tests? Let's find out.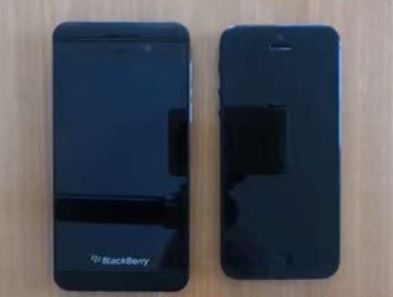 The folks at Telekom Presse did a quick comparison of the BlackBerry Z10 and the iPhone 5. It's not a complete test and lacks many things, so don't get all excited. The BlackBerry Z10 looks only a little bigger than the iPhone 5. It has a 4.2-inch display, with a higher pixel density of 356ppi. The back is quite nice and comes with a soft material that provides good grip. The Z10 also has a removable 1800mAh battery and a microSD slot, all that is lacking in the iPhone.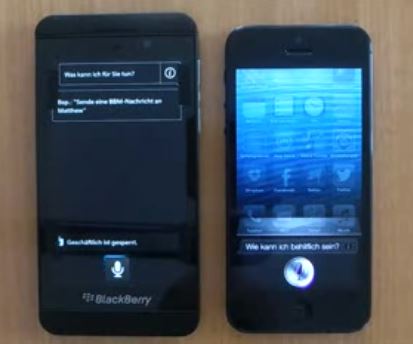 Firstly, the reviewer compared BlackBerry's Voice Control against Siri and found the former to be faster and more accurate. Of course, he was speaking in his native language and Siri isn't that awesome when you speak to it using anything other than English. Then he shows us how the notification system works on the Z10. It's pretty neat to be honest, and you can just have a peak at the text and continue what you were doing. Multitasking is also faster, since iOS requires you to double press the Home button. Check out the video below.
Recently, we saw a preview of the browser in BlackBerry OS 10 and it was much faster than Apple's Safari and even certain top-level desktop browsers. In the above video, the results were similar and the BB10 browser performed faster. Another feature seen in the video is BlackBerry Balance, which lets you create a different account/homepage/apps for business purposes. It looks good so far, don't you think?
RIM has done a great job with BlackBerry 10 and everything looks and works great. January 30th is the official date set for the launch, so we'll soon find out how awesome the new BB10 devices and OS are. What do you think? Will BlackBerry come back in to the smartphone race?