Apple has released iOS 7.0.5 this morning for iPhone 5s and iPhone 5c users. So just what has changed in iOS 7.0.5? Well according to Apple's changelog it corrects issues with 'network provisioning' on Chinese carriers. The update stems in at just over 35 megabytes and only appears to be for the iPhone 5s and iPhone 5c, not older handsets. The exact nature of the provisioning error is unclear at this time.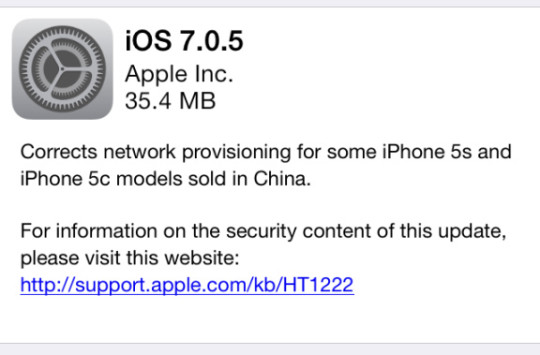 This update comes a few days after both devices were released on China Mobile, which is the world's largest wireless carrier. Apple didn't indicate whether the update is specific to China Mobile iPhones or if it also applies to customers on China Unicom and China Telecom, but regardless the update has been pushed to all devices in case you ever travel to China.
As for whether or not iOS 7.0.5 patched the Evasi0n7 Jailbreak we will keep you posted once we hear word from a member of the Jailbreaking community. You can update to iOS 7.0.5 over-the-air or through iTunes.