The reports were true! Apple has just announced that it will be acquiring Beats Music and Beats Electronics for a sum of $3 billion. The original report mentioned that the acquisition price was set at $3.2 billion, but Apple has managed to scrape off $200 million.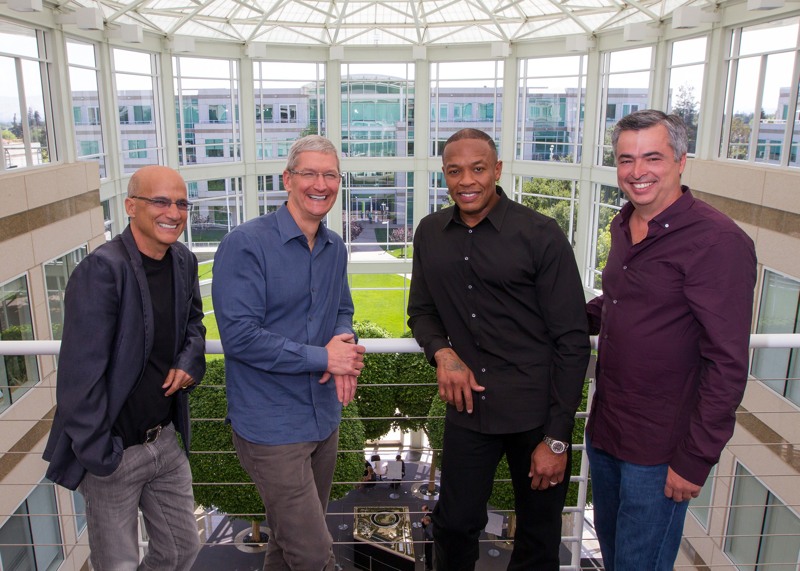 Apple's press release has more details about the acquisition, which should be completed sometime in Q4 2014. Beats co-founders Jimmy Iovine and Dr. Dre will be joining Apple. CEO Tim Cook stated:
"Music is such an important part of all of our lives and holds a special place within our hearts at Apple. That's why we have kept investing in music and are bringing together these extraordinary teams so we can continue to create the most innovative music products and services in the world."
This is Apple's biggest acquisition ever, so far they've only been acquiring small companies for much smaller amounts. Apple will be paying $2.6 billion in cash and $400 million will vest over time. Beats co founder Jimmy Iovine states:
"I've always known in my heart that Beats belonged with Apple. The idea when we started the company was inspired by Apple's unmatched ability to marry culture and technology. Apple's deep commitment to music fans, artists, songwriters and the music industry is something special."
Apple's SVP for Internet Software and Services, Eddy Cue said:
"Music is such an important part of Apple's DNA and always will be. The addition of Beats will make our music lineup even better, from free streaming with iTunes Radio to a world-class subscription service in Beats, and of course buying music from the iTunes Store as customers have loved to do for years."
So what can we expect from this deal? Well, Apple will keep Beats Music and Beats Electronics separate, but you can expect new collaborative products, tie-ups with future Apple devices and improved iTunes Radio streaming. In an interview with the New York Times, CEO Tim Cook said:
"They're going to be coming up with ways of features that blow your mind and products you haven't thought of yet, and seeing around the next corner to articulate the way to take music to an even higher level than it is now."
Products we haven't thought of yet? Sounds exciting right? Anyways, there it is, the Apple-Beats acquisition has finally been announced after weeks of speculation.
In celebration, Beats has announced that its Beats Music service subscription fee will be $99 instead of $119. Also, the free trial period in the Beats Music app has been extended to 14 days (previously 7). Beats Music is also available on Android and Windows Phone.
Download Beats Music from the App Store.