If you are a developer and were planning to attend the World Wide Developer Conference (WWDC) 2013 then you were probably disappointed to hear that it sold out in two minutes. There were a ton of disappointed individuals who missed the chance to purchase a ticket due to server delays, payment processing errors etc.
Although Apple promises to make videos of all of its WWDC 2013 sessions, it just isn't the same as actually attending the event. If you still want to attend an iOS orientated event then you may want to consider #AltWWDC. The #AltWWDC is an open alternative to Apple's World Wide Developer Conference and is taking place the San Francisco State University's Downtown Campus on June 10th to 14th, 2013. This is only a block away from the Moscone building.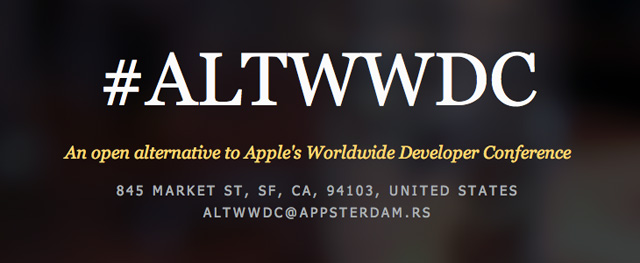 Join us for AltWWDC – a free and open alternative to Apple's Worldwide Developer Conference – June 10th-14th, 2013. Five days of talks, food, co-working, and mingling with other developers all without the bar noise. Got a WWDC ticket? Didn't get a WWDC ticket? Doesn't matter – the conference happens outside the conference.
There will be free lunch everyday, Wi-Fi, Coffee and a ton of other iOS developers to network with. Some of the speakers include Mike Lee, Victor Agreda, Jr., Brett Terpstra, Brent Simmons and Saul Mora. If you are interested in #AltWWDC make sure you check out the official website and get your free ticket before this event too sells out.