We have previously reported on Whited00r many times here on iJailbreak and today we are pleased to announce that Whited00r 7 has just been released to bring about the look and feel of iOS 7 to older devices which aren't capable or running the latest mobile OS. This includes the iPhone 2G/3G and the iPod Touch 1G/2G.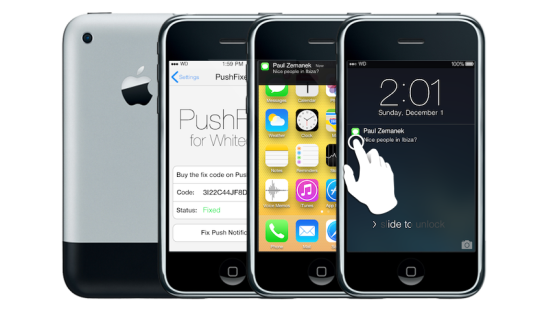 For those of you who haven't heard of Whited00r before it is a re-engineered firmware bundle based off an already compatible ARMv6 OS version. It has been designed with memory efficiency in mind so that it does not slow down your device anymore than Jailbreaking will.
On the official announcement thread it was stated by Whited00r team leader bcooperizcool:
You may be thinking "Well I could have just used winterboard for this…". Let me assure you, you couldn't have. The theme is so much more than just image deep so to speak.  There are several tweaks (memory efficient mind you!) working in the background to provide a completely immersive iOS7 feel for your old device.

Every icon, loading screen, and image you see has been touched in some way to make everything flow together in a smooth theme that in some ways is even more impressive than the real iOS7 theme. Underneath that is a modification at the system level that changes text colour, animations slightly, as well as layouts of certain things to provide an iOS7 feel to the way you interact beyond the graphical.
So what are some of the features of Whited00r 7?
The main highlights of Whited00r 7 are detailed on the features page and this include push notifications, multiple stores for applications, a new and improve Camera app, multitasking, Control Center, Voice Control and of course customization features.
If you have an older device not officially supported by iOS 7 then download and installing Whited00r 7 should be a no brainer. You can check out the official installation wizard which will guide you through the process.
What do you think of Whited00r 7? Drop us a line in the comments section below.