The iOS 6.x untethered jailbreak is only moments away and the Evasi0n jailbreak tool will be available immediately for Mac, Windows and Linux. With Evasi0n, you can jailbreak any iOS device that supports  iOS 6 or iOS 6.1. However, if you're on an A4 device and already have an iOS 6 tethered jailbreak, you can convert that to an untethered jailbreak.
Instead of restoring iOS 6 on your iPhone 4 or iPod Touch 4th generation, you can just install a debian package that would convert your tethered jailbreak to untethered. All you'll have to do is install a debian package that will be available through Cydia. This is similar to the Rocky Racoon Untether that was available for iOS 5.1.1. Evad3rs team member and known iOS hacker MuscleNerd confirmed this in a tweet today.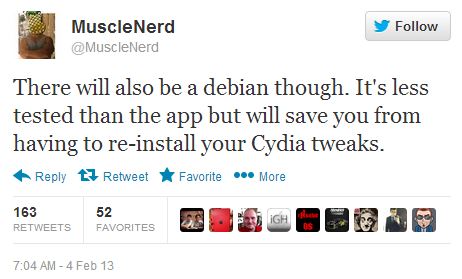 This process would save you the trouble of reinstalling iOS 6 on your iDevice to jailbreak untethered. You will also be able to retain all the Cydia tweaks and sources installed on the device. It is, however, better if you do a fresh install of iOS 6 and then use the Evasi0n jailbreak tool that will be released today. You may have to wait a while for the debian package to be available on Cydia as it hasn't been worked on or tested as much as the Evasi0n jailbreak tool.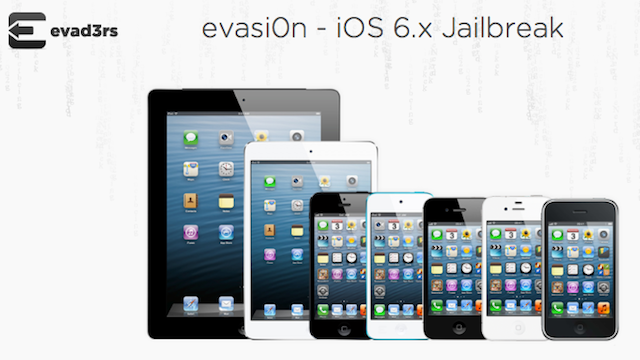 It will be useful for those who are currently running a tethered jailbreak on their iOS device. Users who are awaiting the untethered jailbreak for iOS 6 can prepare for the Evasi0n tool release today. Prep your devices folks, your iPhone 5, iPad Mini and the latest iPad are all going to be free!
UPDATE #1: Learn how to convert a tethered iOS 6.x jailbreak to an untethered jailbreak using the Evasi0n 6.x Untether Cydia package by clicking here.