Jailbreak developer Stefan Esser (or i0n1c as he goes by on Twitter) recently gave a presentation "One ROPe to bind them all?" on iOS Exploitation. In this presentation he goes over the odds of a successful iDevice exploitation, and how to improve current exploits.
During the first part of Stefan's presentation some iPhone, iPod Touch and iPad statistics such as what percentage of people are running which firmware version and what percentage of people are using which Apple devices are shared.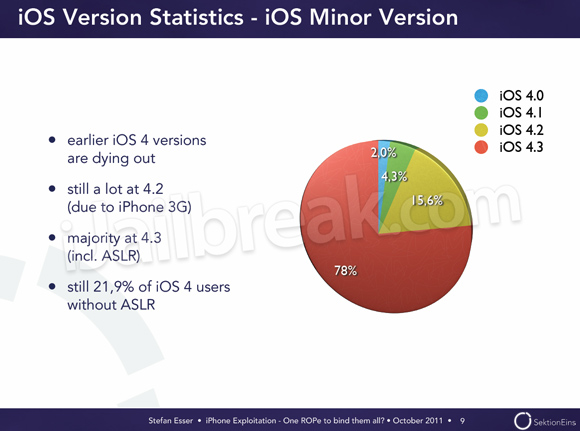 During the second part of the presentation Stefen talks about different ages of iOS exploitation throughout the iOS 4 and iOS 5 firmware generations. These ages of iOS exploitation are as follows:
iOS 4.0 – iOS 4.2.x
iOS 4.3(.x)
iOS 5.0
Additionally he mentions each era brought new exploit mitigations or new features.
During the rest of this iOS exploitation presentation Stefen shares some information about current exploits which are used to Jailbreak the iPhone, iPod Touch and iPad. He also goes over how to develop/improve upon these exploits. Obviously the presentation is very technical and hard to understand for someone who is not familiar with computer programming/hacking. Meaning it is not very useful for the general public. It will, however, be very useful for other developers!
If you would like to see the full "One ROPe to bind them all?" presentation you can click here to download it.