As per a new report, the Pangu Team had demoed a working iOS 8.3 jailbreak during the Mobile Security Conference held in Shanghai, China.
The report comes from the Japanese blog Tools4Hack and states that the Pangu Team demoed an iOS 8.3 jailbreak at MOSEC. The conference is also sponsored by the team.
This is very good news, but we're not sure if the team will be releasing this jailbreak to the public.
iOS 8.4 is just around the corner, therefore, releasing an iOS 8.3 jailbreak at this time isn't the best play. Still, it's nice to know that an iOS 8.3 jailbreak exists and it could be released very soon.
Daniel_4K, a member of the Pangu jailbreak team also posted to Weibo about the jailbreak.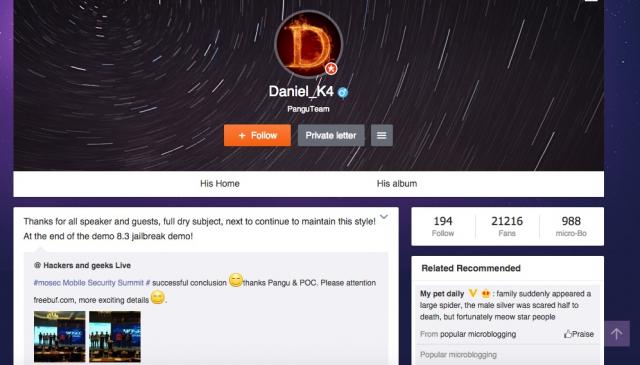 However, no release date has been confirmed by any of the members. Hopefully, the team is also working on an iOS 8.4 jailbreak and will release one after Apple seeds the iOS 8.4 update to the public.
Recently, the TaiG team stated in an interview that they are currently not working on iOS 8.3 – 8.4 jailbreak, instead they're looking at iOS 9. Perhaps, Pangu will give us the iOS 8.3- iOS 8.4 jailbreak?