The state of the iOS 6.0 Jailbreak, for the most part, is fairly unknown. Unfortunately this has to do with very few people actually looking into the Jailbreak and well-known developers moving onto different projects in their lives. For the most part this is expected and it really is a pattern if you look at hackers like GeoHot and Comex, who were both very prominent hackers, but after releasing a couple Jailbreaks they moved on with their life. The same thing is happening now to developers like Pod2G, but the problem is, there is no one to fill their shoes as of yet.
As I have said numerous times, this has to do with iOS exploitation becoming to the point where unless you have familiarized yourself with it throughout the years, it is near impossible to suddenly just start grasping it. And those with the knowledge on how to exploit iOS are either working for large corporations or are selling exploits on the black market. There is only a minute population that want to devote their time to develop a free Jailbreaking solution and most of which are already doing so.
In my personal opinion Jailbreaking is not going to be around for much longer. We can already see a few signs that indicate this. The first being at just how much harder Apple is making Jailbreaking every firmware iteration, the second being fewer and fewer people being interested in developing Jailbreaks and the third has to do with Apple implementing past Cydia tweaks into iOS natively. There is always going to be certain things Apple will not allow in iOS like emulators and themes, but it is more than likely that Apple will eventually get to the point where there is very few Cydia tweaks that will actually be worth installing and the value of Jailbreaking will decrease.
Hacker i0n1c, who instead of developing Jailbreaks for the public, sells various exploits, has tweeted that Apple has made Jailbreaking once again more difficult. According to the hacker, Apple has added even tougher protection mechanisms in the iOS 6.1 firmware that will likely be released in January.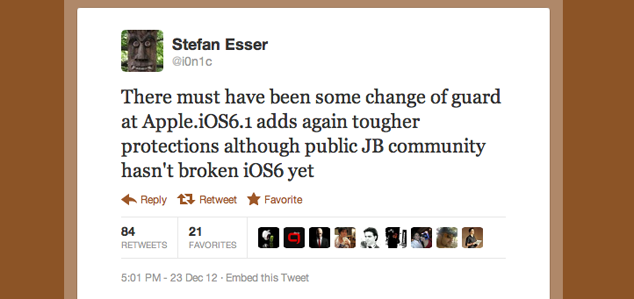 As i0n1c points out, Apple has really upped their game when it comes to iOS security. With the release of iOS 6 we saw KASLR supplementing ASLR and various other security improvements that make a Jailbreak dev's job even harder. This definitely spells trouble and should be a warning NOT to update to iOS 6.1 when it is released.
What do you think? Is Jailbreaking just going to cease to exist shortly? Drop us a line in the comments section below.