If you have not heard the Twitter handler @i0n1c, actually known as Stefan Esser to, thrown around then I would be surprised. i0n1c is a very skilled hacker that has given numerous presentations on hacking the iOS operating system, and more recently is one of the main authors behind the upcoming book iOS Hacker's Handbook. He was also the brain behind the first iOS 4.3.1 Untethered Jailbreak, and numerous other Jailbreaks. Now, the reason I am bringing i0n1c up again, is because he recently shared some interesting views on relevant news circulating around the Jailbreaking community.
The first thing i0n1c commented on was, the recently released Chronic-Dev Crash Reporter tool.

Personally, I think this is more a conflict of vulneribility finding styles between P0sixNinja and i0n1c, and I wouldn't go as far as to say using the Chronic-Dev Crash Reporter is useless. But i0n1c does try and justify his point by saying that looking at random dumps without any idea what triggered the crash is a waste of time. This is because you cannot reproduce the crash with only a crash dump report.
The second thing i0n1c commented on was just how much just how many weaknesses Apple has patched in the iOS 5.0 firmware generation.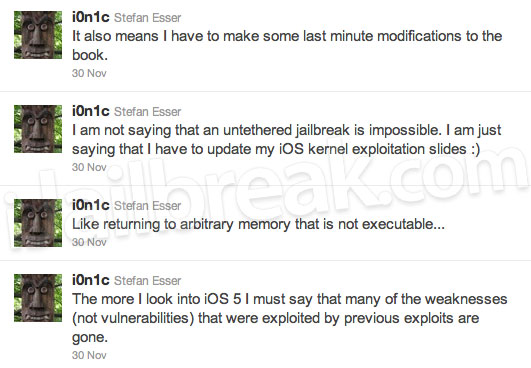 It is for this reason that P0sixNinja was not able to take advantage of his 5 userland exploits he had discovered to provide us with an Untethered iOS 5.0/5.0.1 Jailbreak for the iPhone 4S, iPad 2 and other iDevices.
One thing is for certain, after taking into account i0n1c's thoughts, and that is Jailbreaking is becoming increasingly harder as time goes on. Though this fact is expected and should be common knowledge, it is a good reminder to show you support for development teams such as Chronic-Dev and the iPhone Dev-Team for all of their dedication to continuing the research and development of Jailbreaking solutions. As always, please leave any questions and thoughts in the comments section below…