Despite tools like TinyUmbrella becoming less useful as downgrading becomes hard and harder, the developer of TinyUmbrella, NotCom, is back at it again and has released TinyUmbrella 6.10.00. In TinyUmbrella 6.10.00 comes support for the iOS 6.0.2 and iOS 6.1 firmware. This means you can now save your iOS 6.0.2 or iOS 6.1 SHSH blobs to hopefully be able to downgrade back to iOS 6.0.2 or iOS 6.1 in the future if an exploit is found, in case you update to a non-Jailbroken firmware version.
Among other things NotCom has announced that he is still working on the much needed update to TinyUmbrella, but he is not at a point where he can discuss a release date or any new features. Check out the official post for yourself below…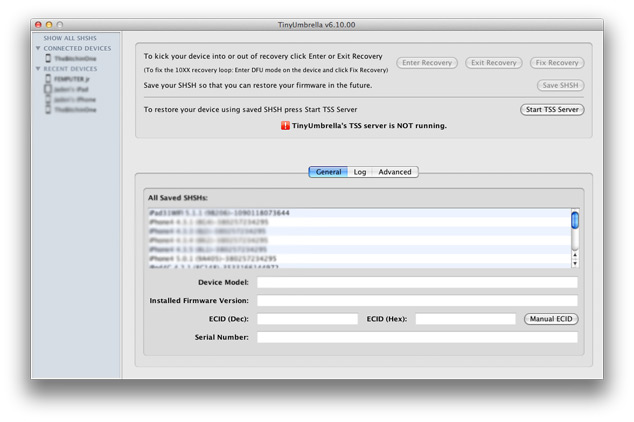 6.0.2 and 6.1 support for all relevant devices has been added. Sorry for the delay. I'm still working on the rewrite that will include auto updating and much cleaner code. I'll post more details as I get closer to completion. I have a feeling I'll be making at least some of the modules open source on either github or bitbucket.
If you would like to download TinyUmbrella v6.10.00 then you can head on over to the iJailbreak Downloads Section or use one of the direct links shown below.
Download TinyUmbrella v6.10.00 (Windows)
Download TinyUmbrella v6.10.00 (Mac OS X)
Let us know if you have any further questions in the comments section below.
UPDATE #1: NotCom has released TinyUmbrella version 6.10.02a. You can download the latest version of TinyUmbrella for Mac OS X and Windows from the iJailbreak Downloads Section or use the links below.
UPDATE: SORRY! I forgot to update a couple important manifests. All should be ok now. Please keep the feedback coming :)

UPDATE 2: Ok. This time I fired the QA Team. Apparently my version detection was borked. My fault! I released way to hastily. I should have planned better. Thank you all for your patience!
Download TinyUmbrella v6.10.02a (Windows)
Download TinyUmbrella v6.10.02a (Mac OS X)