A few days ago we told you that iH8Snow released a large update for Sn0wBreeze, dubbed Sn0wBreeze v2.9 to Jailbreak almost all iOS devices Untethered up to the iOS 5.0.1 firmware. For most people Sn0wBreeze was a much-welcomed update and worked very well. For a select few individuals trying to Jailbreak the iPhone 3G with the special iPad baseband, however, errors became present as Sn0wBreeze never flashed the iPad baseband. Thus, iH8Snow has recently tweeted that he has released an update for Sn0wBreeze, bringing Sn0wbreeze to version 2.9.1.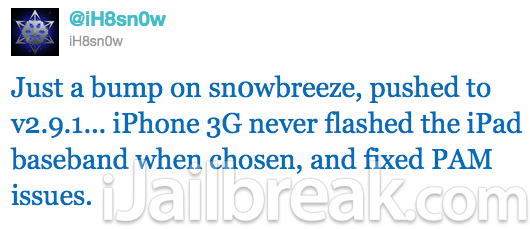 In Sn0wBreeze v2.9.1 iPhone 3G owners with the special iPad baseband will be glad to know that Sn0wBreeze now correctly applies to iPad baseband during the IPSW customization process. Additionally, Sn0wBreeze has fixed another few issues relating to PAM.
If you would like to download Sn0wBreeze v2.9.1 for Windows you can go to the iJailbreak Downloads Section or use one of the direct download links below.
Download Sn0wBreeze v2.9.1 for Windows
We should have a how to guide for Jailbreaking with Sn0wBreeze v2.9.1 shortly. Until that time please stay tuned and leave any questions or thoughts in the comments section below…