With the Apple TV iOS 5.0.1 (iOS 5.1.1 Build 9B206f) Untethered Jailbreak being released last week what better time than an aTV Flash (black) update than now?  The FireCore Dev-Team have recently tweeted that they have updated aTV Flash (black) to version 1.6 which actually includes a lot of improvements.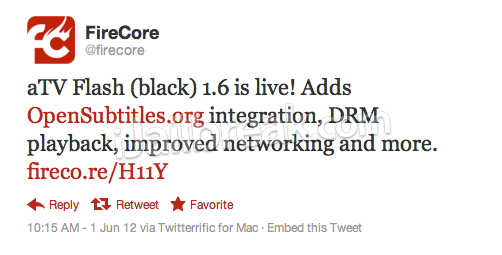 These improvements include integrated subtitle downloads thanks to OpenSubtitles.org, expanded codec support, refined video playback, improved networking, additional translations and much more. Probably the biggest improvement however, remains the OpenSubtitles.org integration as it gets rid of you needing to spend hours searching for subtitles; as instead they can be downloaded right from your Apple TV.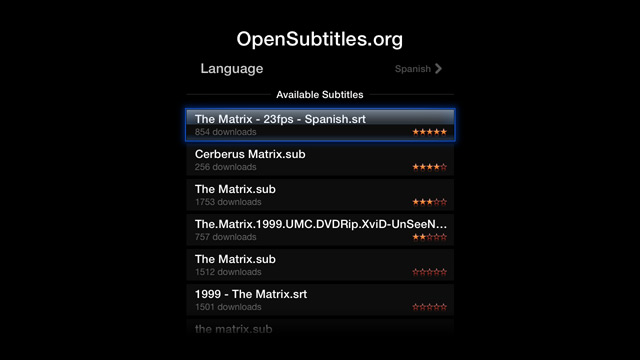 You can take a look at the complete changelog for aTV Flash v1.6 in the quoted area below:
Added integrated subtitle downloads from OpenSubtitles.org
Added support for purchased iTunes content (matching iTunes login required)
Added video deinterlacing option
Added Wake-on-Lan (WOL)
Added Portuguese (Portugal) translation
Added support for displaying subtitles in lower 'black bar'
Added support for .WTV files
Added support for multiple simultaneous AFP connections
Improved bulk fetching & added automatic artwork caching
Improved automatic downscaling for large thumbnails
Improved metadata reloading for images
Improved buffering over AFP
Resolved various audio synchronization issues
Resolved possible overflow in 5.1 AC3 audio
Resolved issues with zoom for 4:3 movies
Resolved missing audio for .dvr-ms files (ASF containers)
Resolved rare SRT file crash
Resolved issues with slideshow animation
Resolved file specific metadata fetching issues
Resolved rare ISO file crashes
Resolved issue with displaying identical thumbnails for images with the same name
Resolved metadata loading issues for files containing non-latin characters
Resolved rare 5ch audio file crash
Resolved issues with incorrect metadata for files with '<TVShow Name>/S01E0.avi' pattern
Resolved auto-start issues in Couch Surfer
Reduced memory footprint for large software-decoded videos and slideshows
Other minor UI improvements & bug fixes
If you are ready to install aTV Flash (black) you will be glad to know you can download aTV Flash (black) v1.6 from your account under the downloads tab. Please don't forget to also leave any questions or thoughts in the comments section.