RedSn0w was updated to version 0.9.14b2 yesterday to help the remaining iPhone 3GS users running the 06.15.00 baseband downgrade to a regular iPhone baseband. Another feature that made its way into this updated version of RedSn0w however, is called "DFU IPSW." This feature allows those with broken hardware buttons to enter DFU mode for a Jailbreak.
If your home or wake/power button is broken on your current iPhone, iPod Touch or iPad you will be glad to know it is now easy to enter DFU mode with RedSn0w. The process simply involves creating a custom IPSW (iOS Firmware file) that upon being restored to will leave your device in DFU mode. As such, in this guide you will learn how to put your iPhone, iPod Touch or iPad in DFU mode with broken hardware buttons using the Windows version of RedSn0w 0.9.14b2.
Note: Yes, this method will result in loosing content on your iOS device. It is suggested you backup anything important prior to following this guide.
How To Enter DFU Mode Broken Home Button
Step 1: The first thing you will need to do is download RedSn0w 0.9.14b2 or higher from the iJailbreak Downloads Section or from one of the direct links below.
Download RedSn0w 0.9.14b2 (Windows)
Step 2: With RedSn0w downloaded you will need extract it and then launch it by double clicking on RedSn0w.exe and then you should see two buttons – Jailbreak and Extras. Click the Extras button, followed by the Even More button and finally the DFU IPSW button.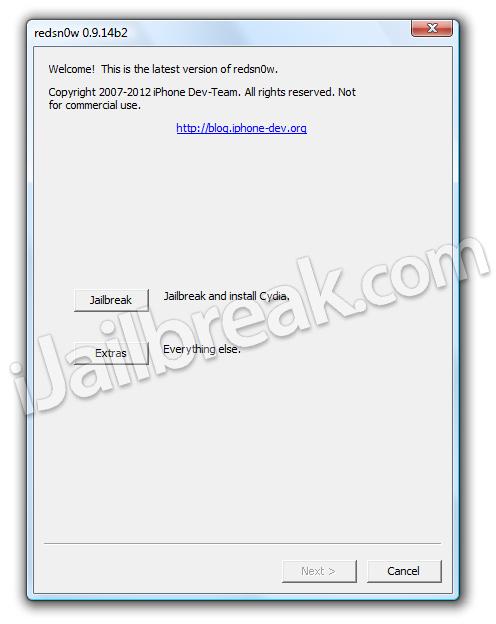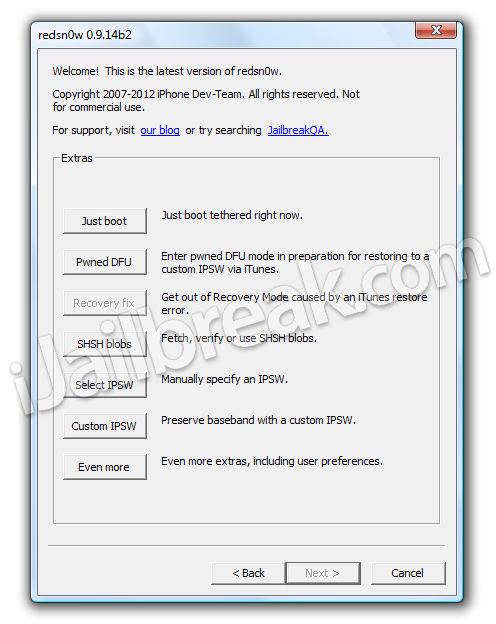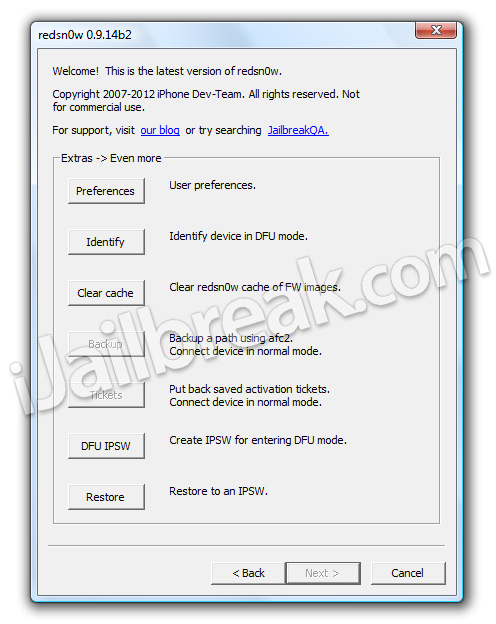 Step 3: Upon clicking the DFU IPSW button you will be presented with a window with some further information on the process. Read through this information and then click OK. You will now need to select a firmware that you can restore to without any hacks. This means a firmware that Apple is currently signing, which at the moment (July 5th, 2012) is the iOS 5.1.1 firmware. For those of you that need to download a the applicable firmware file click here.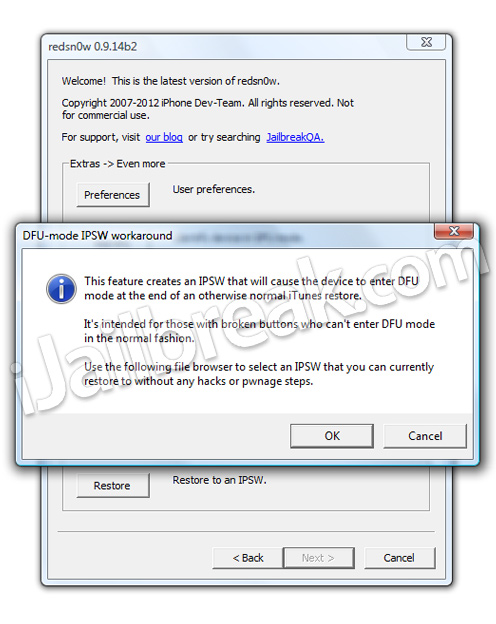 Step 4: After you select a correct firmware RedSn0w will create the new custom firmware with a ENTER_DFU prefix. This new firmware will be saved to the same location as the original firmware that you selected.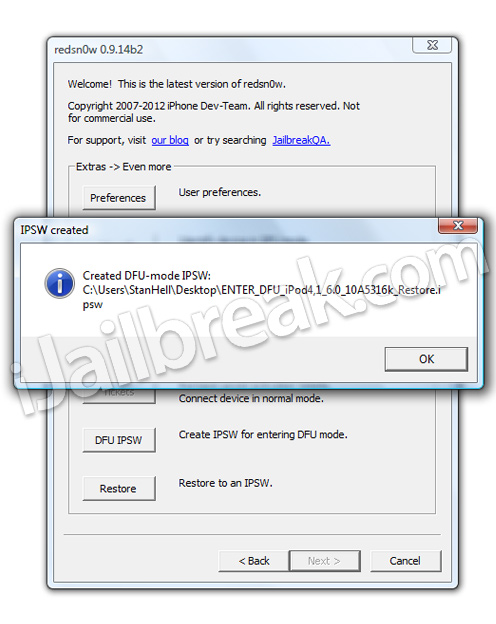 For Example: If I selected the iOS 6 beta firmware for my new iPad, which is named iPad3,1_6.0_10A5316k_Restore.ipsw, the custom firmware that RedSn0w would create is ENTER_DFU_iPad3,1_6.0_10A5316k_Restore.ipsw.
 Step 5: Now connect your iPhone, iPod Touch or iPad to your computer via the USB cable and launch iTunes. Click on your iOS Device from the sidebar and then hold down the OPTION key on your keyboard and click the Restore button. Doing this will bring up a new window where you can select the custom ENTER_DFU firmware file. Do this now and your iPhone, iPod Touch or iPad will begin being restored.

Step 6: When the process is complete your iOS device should be in DFU Mode (the screen should be completely black). You can now simply follow one of our guides on Jailbreaking with RedSn0w by clicking here.
After following the steps outlined in this tutorial your iPhone, iPod Touch or iPad should be in DFU mode, meaning it is ready to be Jailbroken. If you have any further questions or thoughts please direct your attention to the comments section below.