Waking up is sometimes a chore for a lot of people. If you are tired of waking up to the same alarm tone everyday then you might want to try customizing your wakeup experience with the Wake Info Cydia tweak.
The Wake Info Cydia tweak will tell you information about your current location temperature, current city, battery charge percentage, calendar events fro the day, unread email and more in the form of a spoken custom message right after you dismiss or snooze the alarm. You can also display these custom messages in the form of banners.
The Wake Info Cydia tweak allows you to customize the information you want to hear at the start of your day, which just might help you get out of bed a little sooner, or at least stop you from pressing the snooze button.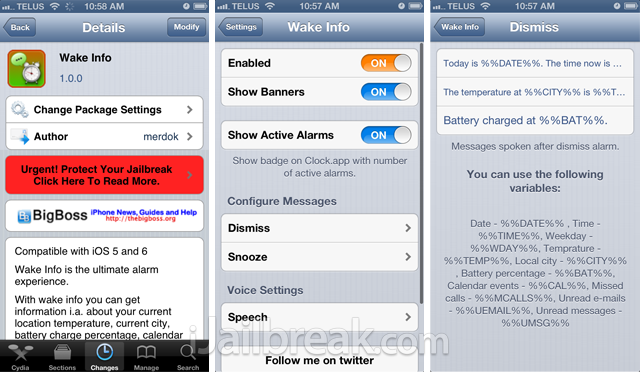 After playing around with Wake Info, I have to say it is a pretty neat tweak that I am actually going to be keeping for the next few days to see if it is worthwhile in the long run. Customizing the messages you hear when you dismiss or snooze the alarm is easy and the tweak has quite a few options. You simply make use of variables that are explained to you below the message input fields.
Wake Info is compatible with the iPhone, iPod Touch and iPad running iOS 5 and above. The only functionality that doesn't yet work on the iPad is the weather variable, because it is lacking an official weather app. If you are interested in Wake Info you can find it in the BigBoss repo for free. Let us know your thoughts on the tweak in the comments section below.