A Cydia tweak has been released today that will make your calling experience on iOS 10x better! Just how could this be possible?
Well, if you are someone who places and receives a lot of calls on your iPhone you probably realize that the speaker volume is less than ideal. In fact, in most cases, unless the person on the other end talks extremely loudly, it is downright horrible. For some reason Apple doesn't allow you to increase the volume of a call to a level that is easy to hear and understand the person on the other end of the line. The max volume that Apple provides just doesn't cut it.
With a new Cydia tweak called Volume Amplifier, this problem is solved.
Volume Amplifier manipulates the speaker audio stream when placing phone calls so that is is boosted by up to 200% its original level. The unique thing about Volume Amplifier is it doesn't accomplish this by modifying any system files, which means it is much more stable than previous volume amplification tweaks.
You simply press the volume up button during a phone call as you can see here and Volume Amplifier will start to boost the audio level past its normal level of function.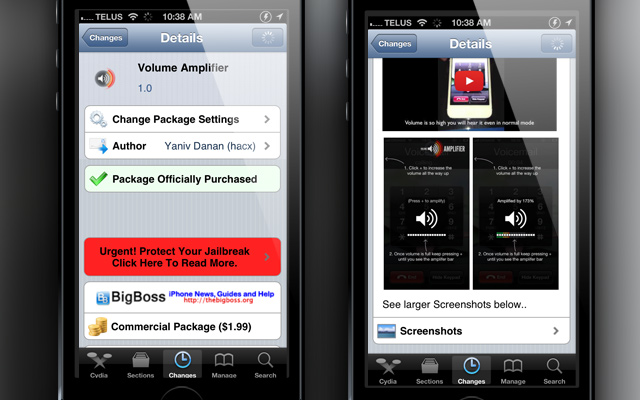 At this point in time Volume Amplifier only applies to the Phone app because the audio level in the Music app and other areas of iOS is already good and doesn't really require any additional tweaks. And it is worth noting that Volume Amplifier only works with the iPhone 5 running iOS 6 and above at this time. The developer has noted though if users want support for the iPhone 4 and 4S he will add compatibility, but only if enough interest is shown.
I couldn't recommend Volume Amplifier enough to you, it is going to be an essential tweak now for any Jailbroken iPhone. You can find it on the BigBoss repo for $1.99 and it is worth every penny.