When Apple introduced the iPhone 4S, its flagship feature was Siri – the virtual personal assistant that would help you do a variety of tasks on your smartphone with the power of your voice. With the introduction of Siri is sparked a whole new trend in voice recognition technology that now is being heavily implemented in other smartphones.
Today a brand new tweak was released into Cydia that rides of this current interest in voice recognition technology. It is called VoiceSearch and is really a quite useful Cydia tweak. What the VoiceSearch tweak does is allow you to search the web with the power of your voice.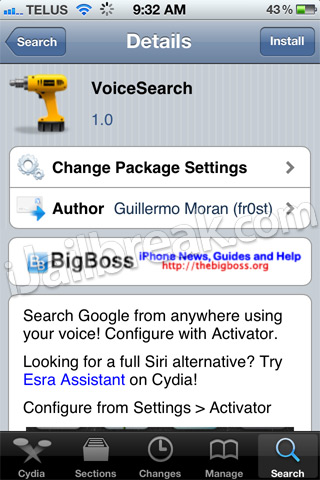 Upon installing VoiceSearch you simply select an activation action from Activator and you can bring up the VoiceSearch window. This window consists of a Microphone icon, cancel and done button. The way this tweak works is upon being activated you speak what you want to search the web for and then click the Done button. At this point your default browser will launch and you will be returned with search results based off what you prompt VoiceSearch earlier.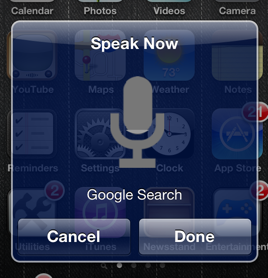 Overall I think VoiceSearch is a great Cydia tweak, and for once its voice recognition technology is fairly accurate for a Cydia tweak. If you are interested in VoiceSearch you can find it through the BigBoss repo for FREE. Don't forget to share your thoughts about this tweak if you decide to try it out in the comments section below.