Last week we shared with you an iOS 8 concept that merged the Control Center and the app switcher together, accessible by a simple swipe up from the button of the screen, which actually looked like it would pan out well in a real world scenario. Sure enough someone else thought the same and is actually making it into a fully fledged Cydia tweak.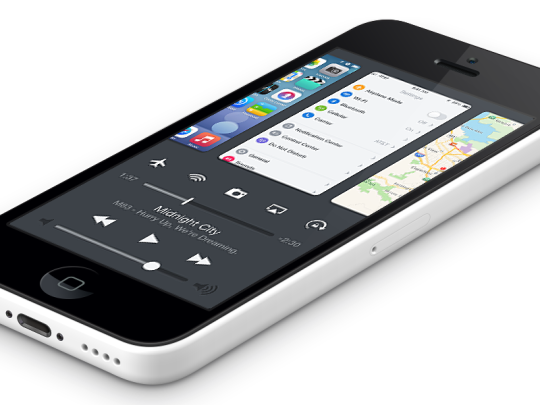 Two developers are actually working on a Jailbreak tweak called Vertex which will bring the concept to life:
Flicking up from the bottom of the edge allows the multitasking app views to be tied directly to the gesture, which allows for direct manipulation and avoids having to wait for a passive animation to complete before interacting with them.

The obvious potential drawback to this combined approach is that there is less room available for Control Center- I personally find that I use a couple features of Control Center, but almost never touch at least half of them (calculator, clock, airplane mode, bluetooth). I can't be sure, but I suspect this is true for a large amount of other users as well, so my solution is to have 5 button 'slots' that can be customized with the 5 most used shortcut functions for that particular user.
You can take a look at the video of the original concept below:
The developers have also stated that they plan on giving the tweak a more iOS 7 look:
Vertex merges the Control Center and App Switcher, but we added a nice little iOS 7 touch to it, your wallpaper will be blurred in the background of the switcher, also we used smooth animations to make it fit even more with iOS 7. And at last, we used the stock icons, to make it look flat but gorgeous.
A video preview of the tweak is actually available below:
Right now you can beta test the tweak if you contact the developers over Twitter (@tmnlsthrn / @ianb821) or you can send us an email at vertex@tmno.co.
A price for the tweak hasn't been established yet or when it will be released but we'll let you know when it hits Cydia.