You know the line, "With great power comes great responsibility." Universal Video Downloader is one of those tweaks that unquestionably has great power. Concerns about the possibility of this Cydia app are the reason why video apps, like Amazon's Instant Video, attempted to block jailbroken devices (which can be circumvented by a handy tweak called xcon). Now it's here: As the name implies, Universal Video Downloader allows users to download video from nearly any source on iOS.
You might expect the software to download video from sources like the new YouTube app, Chrome, or Safari, the Universal Video Downloader actually functions very true to its name. Netflix, Crunchyroll, and even apps for local Canadian TV stations can all be used to directly download streaming-only shows directly to your iPad. It's hard to say whether or not this is any less ethical than, say, recording a broadcast TV show using your PVR, but on the other hand, it's almost like using Netflix's own servers to pirate a movie. This is new territory on the iPad, and we'd expect to see a cat and mouse game between content providers and developers very soon.
Downloader, as the app calls itself on the SpringBoard, is a FREE Cydia tweak, available in the BigBoss repository. Files are stored in /var/mobile/Library/Universal_Video_Downloader/Downloads — but keep in mind that if you download certain files from streaming apps, they will be difficult to play on your computer outside of Downloader.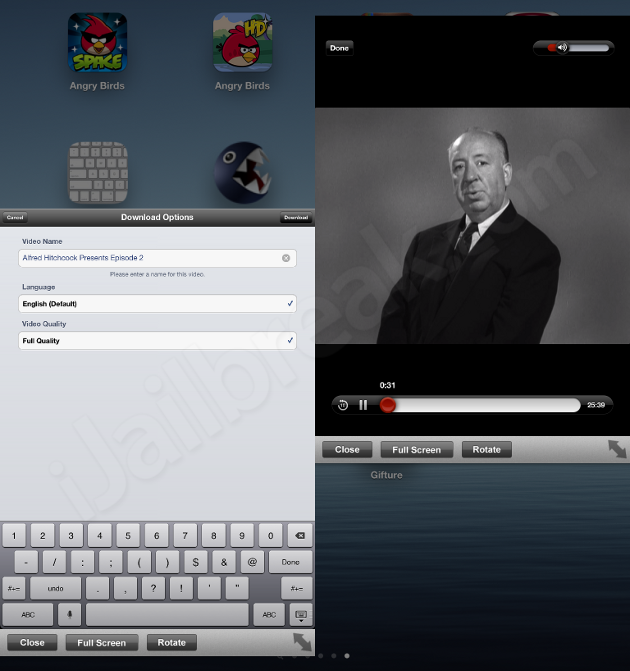 While Downloader is an interesting app, and potentially one of the most powerful video downloading apps we've seen, there are a few downsides. Because the app uses a lot of memory, it can cause your device to crash. This can be fixed with a reset (hold lock+power), but it is a disruption. The second issue is more serious: while the video is captured, audio isn't. All the video's I've tested, from a variety of sources, have all become silent pictures when saved to my iPad (which is otherwise capable of playing sound). This could be an issue specific to my iPad and its interactions with existing tweaks, since other users of Downloader haven't reported the issue. Regardless, it's amazing that the app can download video from seemingly any source.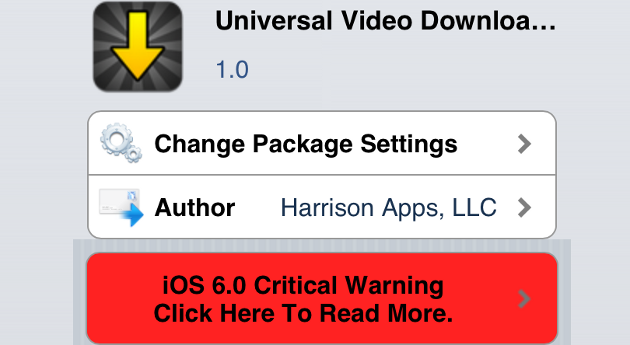 Does Universal Video Downloader work properly from your machine? Do you consider the app to be a tool for piracy, or is it keeping with fair use–and in what situations? Share your thoughts in the comments section below.