Ever find yourself shaking your iPhone, iPad, or iPod touch madly to get it to rotate? Do you wish your phone would automatically 'know' to switch into the upright position when you insert it in a dock? A new tweak called UIRotation For Activator allows you to assign gestures and other Activator signals to screen rotation.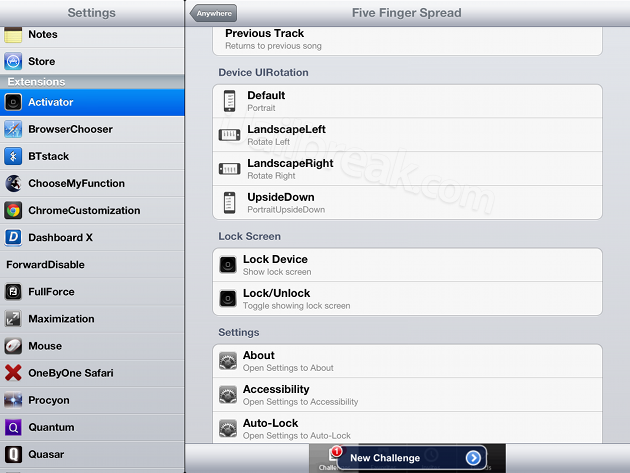 As the name implies, the tweak is a plugin for Activator. Once you install the tweak, the you'll be able to set the gestures under Settings -> Activator. Device UIRotation doesn't only provide settings for portrait and landscape, but all 4 rotations of the screen, though you'll probably stick to Default and LandscapeLeft. Unfortunately not all Activator gestures can be set to activate Device UIRotation, they seem to be limited to gestures that can be done anywhere, like screen dragging, button presses, and connecting the phone to power.
The Device UIRotation gestures do work on the iPad, though it doesn't work when the device is on the SpringBoard screen. Though the SpringBoard can rotate on the iPad, it's possible it's blocked because other devices don't support SpringBoard rotation by default. As a side effect, this tweak doesn't work alongside the Quasar window manager.
The only major downside of Device UIRotation is it does not ignore rotation lock, meaning it would be a hassle on the rare occasion where you want to rotate an app into the landscape position while holding the device in portrait mode. The software would be improved if the deliberate gestures could either override the rotation lock or disable the accelerometer.
UIRotation For Activator is a free tweak and is available in the default BigBoss repository. You can watch the developer's video demo below to see UIRotation For Activator in action.
How would you use UIRotation? Share your thoughts in the comments section below.