A couple of days ago we told you about a new theming store that was going to be released call ThemeIt. What is ThemeIt? Well just as ThemeIt's name suggests, ThemeIt will be a new store for your jailbroken iDevice that will give you access to quality winterboard themes. Going more in-depth,  ThemeIt is a carefully designed platform (application and website) allowing focus on high-quality themes and also the artists behind the themes in a way that wasn't possible before… it will truly be the Theme Store you have been dreaming of about.
Today the ThemeIt App was actually released, and it is currently available for download through the ThemeItApps repository. After thoroughly looking through the ThemeIt App, I can say that I am very impressed with everything about it. The GUI is simply stunning, and its functionality is great. If you are someone who is into theming their iDevice, you are going to love the ThemeIt App!
In fact if your still on the fence, we are going to give you a quick run-down on what the ThemeItApp has to offer…
Installing the ThemeIt App
Step 1) – The first thing you are going to need to do is install the ThemIt app to your iDevice. Now unfortunately the ThemeIt app has not been submitted to an external repository, and it is only available through the official ThemeIt App repository. This means you are going to need to add an external repository, and the repo you will need to add is listed for you below.
How do I add a Repo? Launch Cydia and go into Manage > Sources > Edit > Add
Step 2) – Great, now that you have added the ThemeIt App's repository to your iDevice, you are going to need to now install it. Do this now by either searching for the ThemeIt App, or by going into the ThemeIt App's source list.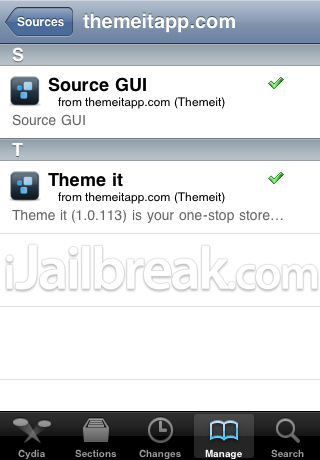 Step 3) – Once the ThemeIt App has been installed on your iDevice,  click your home button and find the ThemeIt app on your springboard.

Once you see the ThemeIt app on your springboard, tap the icon to launch ThemeIt.
Step 4) – Once the ThemeIt app is up and running you will notice that it features a 4 tabbed navigation that is similar to Cydia's navigation. You should have no troubles figuring out how to navigate through the ThemeIt app, but regardless let us take a quick tour of the ThemeIt App to get you familiar with it.
Home Tab
The Home tab is the place you go when you want to find out about the latest theme releases. Alternatively the Home Tab can actually be configured to display the best rated/most popular/random theme. Note: You can configure these options through the settings tab.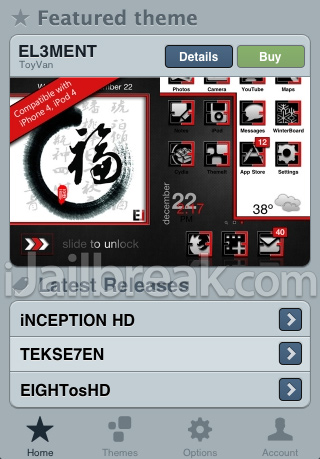 Themes Tab

The Themes tab is where you go if you want to browse for specific themes, or simply if you want to browse through all available themes. In the themes tab you can filter themes by the latest themes, paid themes, themes by author and themes by rating. Unfortunately right now the ThemeIt app only contains commercial themes, however a free themes section will be coming within the next couple weeks.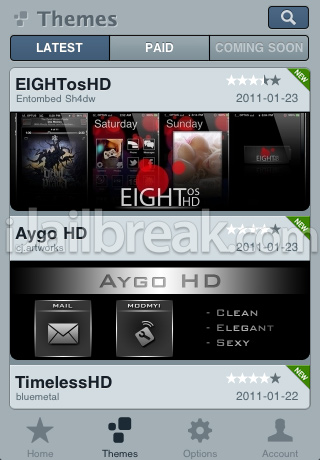 Options Tab
In the options tab you can configure settings to do with how the ThemeIt app organizes themes. You can configure different types of  notifications, what kind of themes the homepage shows, the order of how themes are displayed etc…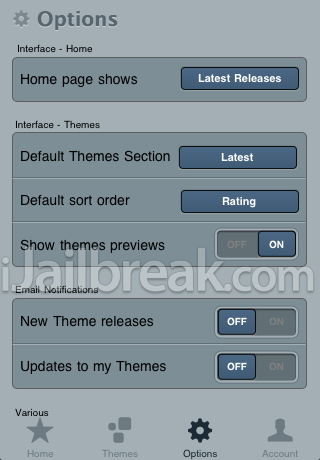 Account Tab
In the account tab you can create yourself a ThemeIt account, and through your ThemeIt app account you can keep track of your purchased themes and you can rate themes. If I were you, I would create a ThemeIt app account ASAP so you can get your desired username.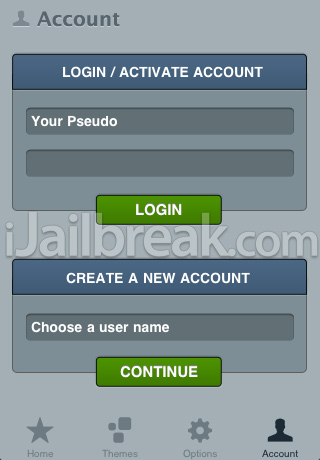 As you can see, the ThemeIt App is a very well developed theme store that is sure to only get better. This was just a quick tour of the ThemeIt app, and by downloading the actual ThemeIt app you will find that it has much more to offer! What are your thoughts on the new ThemeIt installer?
Note: Right now the ThemeIt App's servers are under a lot of stress, and due to this the ThemeIt app may appear to be sluggish for the first couple of days.