Another Siri related tweak is now available in Cydia and looks very useful. The regular way of dismissing Siri happens by pressing the Home button. If you don't like using the Home button all the time and prefer another means to dismiss Siri, then this tweak is for you!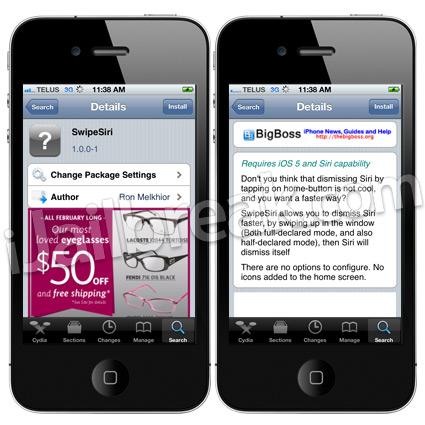 SwipeSiri is a new Cydia tweak that makes the action of dismissing Siri easier, while saving the Home button from a lot of wear and tear. With the help of this tweak, you can dismiss Siri with just a simple upward swipe. There isn't anything else that this tweak can do, it's only function is to dismiss Siri. It works when Siri is in fullscreen mode and also when in half screen mode. Just swipe upwards and that's it! Siri dismissed.
There are no settings, just a SpringBoard restart should do the trick. SwipeSiri is currently available for FREE in the BigBoss repository. Try it out and tell us what you think of it in the comments section below. Do you like using the swipe gesture to dismiss Siri or are you better off with pressing the Home button?