Stampr: Automatically TimeStamp Photos Taken With The Camera.app
A new tweak was released into Cydia called Stampr. This tweak allows you to have timestamps on photos inside camera.app. You can take a photo with the normal camera app, and Stampr will have two photos taken, one, which is the original, and one with the timestamp. You can even customize the timestamps from within the settings.app. You can adjust the font size, the font color, add custom text before the time stamp and even customize the date/time format.
If you are looking for a tweak to date your photos, this is the perfect tweak!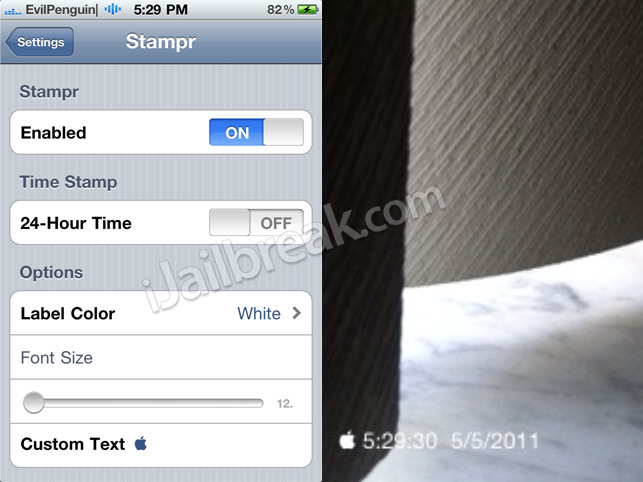 If you are interested in Stampr you can find it through Cydia for free.
PhySwitch: Use Volume Keys To Switch Between Applications
A new tweak was released into Cydia called PhySwitch. This very useful tweak allows you to use your iPhone's/iPod touch's volume keys to switch between applications! While this may not sound that appealing at first, after further looking into PhySwitch you will find this ability should be native functionality. It not only makes switching between applications and easier process it makes it twice as fast.
To setup the tweak simply select an activation method and you can go back and fourth between applications by simply clicking your iPhone's/iPod Touch's volume buttons. You can even use your touch screen once you are in the PhySwitch application switcher screen. The best way to get a true sense about this tweak is to watch this demonstration video below:
If you are interested in the PhySwitch tweak you can find it in the Cydia store for a price of $1.99.
Rich Text For Mail: Write Emails Using Custom Fonts, Colors And Styles
Are you getting bored of the lack of formatting options available in the stock mail.app? Wouldn't it be great if you could easily change the text style, font and color of your emails? If you answered yes you will be glad to know that thanks to Ryan Petrich, a well known developer, this is now possible. With Ryan Petrich's new tweak Rich Text For Mail you can easily format your emails like never before. Simply highlight the portion of text you wish to format, click the Rich Text For Mail Icon, and choose the formatting options you wish to apply to the text. It really is that simple.
You can get a better idea of how this tweak functions in the YouTube video below…
If you are interested in Rich Text For Mail you can find it through the Cydia Store for a price of $4.99.
SlideAway: Quick Apps On Lockscreen
A little over a week ago we told you about a new tweak that would be released into Cydia called SlideAway. By the sounds of some of the comments we got on that post a lot of people were looking forward to this tweak; which is no surprise. If you were one of those people who were looking forward to the tweak you will be glad to know that it is now available through the Cydia Store.
For all of you who need a reminder SlideAway brings substance to your iPhone's lockscreen, allowing you to access the apps you use the most without having to unlock the device.
You can customize the two shortcuts on the left and on the right side of the bar and you can bring up the Slide Up Dock by actually sliding up the bar. You can also adjust the brightness from the slider above the dock. You can choose between two dock styles: "Real Dock" will actually put a copy of your dock; "Custom Dock" will allow you to choose up to 5 different apps to put them in the dock. SlideAway also keep track of your unread mails, SMS, missed calls or push notifications, displaying a count of unread item under the bar.
If you are interested in the SlideAway tweak you can find it through the Cydia Store for a price of $2.99.