Space+ is a new Cydia tweak that makes the space button on your iPhone, iPod Touch or iPad work like the space button on your PC. Normally if you tap and hold the space bar on the stock iOS keyboard, the cursor moves one space and then stops. To insert multiple spaces you need to tap the space bar multiple times.
On a PC, however, if you tap and held the space bar it would start moving the cursor forward until you stopped pressing it.
Space+ makes the spacebar function like on your PC; that is, when you tap and hold the space bar, blank spaces are inserted automatically until you lift your finger. You can also position the cursor behind text and then re-format it using the space bar.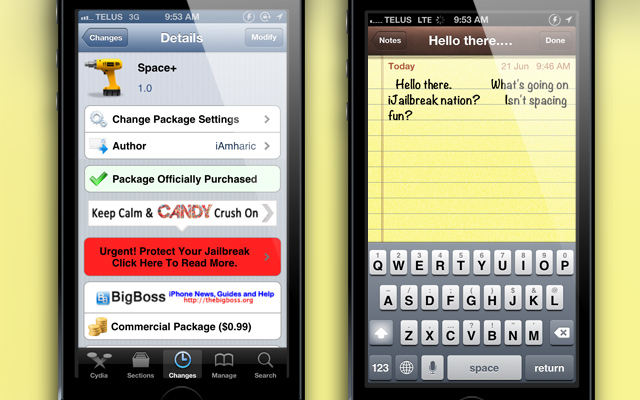 If you are someone who wants easier text formatting then Space+ is likely the tweak for you. It works without hiccups, has no Settings to configure and can be found inn theBigBoss repo for $0.99. Be sure to check out our video review of the tweak and share your thoughts in the comments section.