Last weekend we showed you how to Jailbreak your iPhone, iPod Touch and iPad SemiTethered using the SimiTether Cydia package. In case you are wondering what a SemiTethered Jailbreak is versus a Tethered Jailbreak — A SemiTethered Jailbreak means that if your iDevice loses power, instead of it being unable to boot up without first plugging it back into your computer, your iDevice will boot into a semi-functioning state where you can use applications like the Phone.app.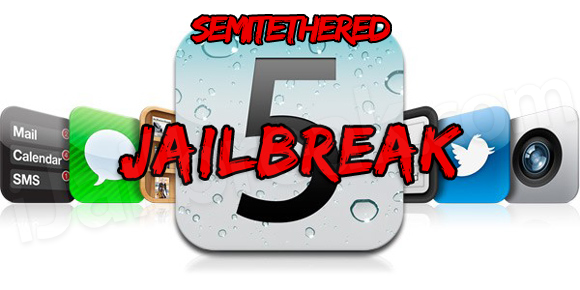 The first beta release of this SemiTethered Jailbreak created by BigBoss caused numerous errors for people. If you were one of those individuals who experienced errors while Jailbreaking your iPhone, iPod Touch or iPad Semitethered on the official iOS 5 firmware, you will be glad to know this week BigBoss released an update for his SemiTether Cydia package (version 0.7.9).
SemiTether 0.7.9 Cydia Package
BigBoss mentions the following about the SemiTether 0.7.9 update:
I updated to 0.7.9. This version will take about 90 seconds after it first boots up and then your device will respring again. This timing was the only way to get some of the launch daemons to properly relaunch.

This version should fix issues for some of you folks where:

Device does not sync with itunes and only errors. Hopefully solved.
Device reboots after 2-3 minutes.
 App sync issue – this is unworkable. Appsync hard patches system files and does not even use mobile substrate. I had to conflict with it. For now, semi-tether boot is impossible with appsync. You guys need to bug those guys to fix appsync to use mobile substrate (like everyone else uses).

Note: Saurik is working on an update to mobile substrate that will solve many of the issues with the semi-tether package. Hopefully this will be out in a day or two. At this time, we can finalize beta testing. I plan to hold further updates until after Saurik has released his mobile substrate update. Saurik's updates will eliminate the need for the long 90 second respring on boot also.

This update was only tested on iphone 4. After saurik's mobile substrate changes, more devices will be tested. Next update is coming in 2-3 days.
If you were experiencing any of the errors BigBoss has outlined above we suggest updating the SemiTether Cydia package to version 0.7.9. Let us know if this update has fixed errors with your SemiTethered iOS 5 Jailbreak in the comments section below…
Note: For more information on this SemiTethered Jailbreak click here. For a guide on how to Jailbreak your iPhone, iPod Touch or iPad SemiTethered on the iOS 5 firmware click here.