RSAPserver: Make And Recieve Calls With Your RSAP Car Phone System
If you have been looking for a Cydia tweak that will allow you to make and receive phone calls with your iPhone 3GS, you are in luck.
RSAPserver is a tweak that was recently released and it allows your RSAP car phone system to take over the SIM card in your iPhone 3GS via Bluetooth. This means you can make and receive calls without even having to take the iPhone out of your pocket; while still using the antenna on the roof of the car! The tweak uses BTStack, a free alternative Bluetooth protocol stack for iPhone and embedded systems designed by Matthias Ringwal,  to connect your iPhone 3GS to your RSAP car phone system.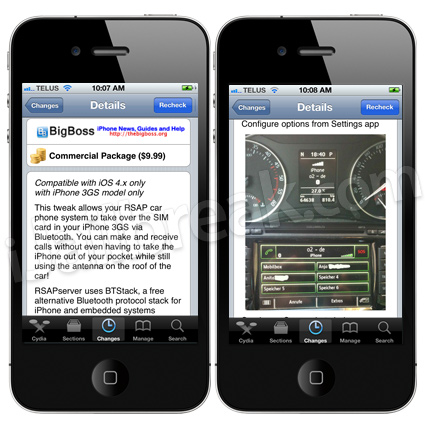 If you are interested in the RSAPserver tweak you can find it through Cydia in the BigBoss repo for $9.99.
MyMobileTube Pro: Stock YouTube.app On Steroids
If the stock YouTube.app has ever let you down, you will be glad to know there is a new feature-packed YouTube app available through Cydia called MyMobileTube Pro. The developer notes that he has re-designed the YouTube.app to the way it should of been developed in the first place. With features such as High-Quality videos, customizable tabs, support for all iDevices including the iPad, MyMobileTube pro is certainly an excellent investment if you are an avid YouTube fan.
MyMobileTub Pro includes the following features:
Fully customizable tab bar
More tab options
Ability to download videos
Convert videos to MP3
Universal iDevice support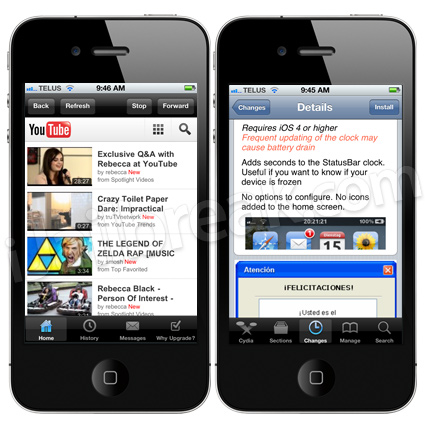 If you are interested in MyMobileTube you can find it through the ModMyi repo for a price of $1.00. You can additionally download the trail of this app from Cydia which is just simply called MyMobileTube.
iCaughtU Pro: Extends The Security Of The iOS Lockscreen
If you are concerned about the security of your iPhone, iPod Touch and iPad then the perfect tweak has recently been released into Cydia just for you.
The iCaughtU Pro Cydia tweak is an enhanced version of the original iCaughtU tweak. Just like the original, iCaughtU Pro will take a picture with the front camera (if available), when the lock password is entered wrong, and it will additionally send it to a specified user via SMS or email with more information like Location and a map.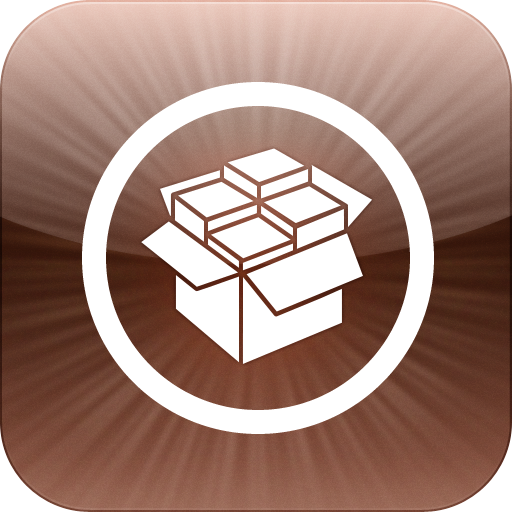 The tweak features the following:
Take Picture with Front Camera (if available) when password is entered wrong or user tries to turn off device and send it by email.
Save pictures to Photo Library.
Set a number of max attempts before taking picture.
It can also send location and time when sending the email.
Send SMS (only for iPhone) when Password is entered wrong.
Compatible with AndroidLock XT.
Many other features comming soon
If you are interested in iCaughtU Pro you can find it through Cydia in the BigBoss repo for $2.50. You can additionally download the original version through Cydia in the BigBoss repo for free.
SBFacebook: Create Custom Facebook Shortcuts
If you are a Facebook fanatic you are going to love the SBFacebook Cydia tweak. As with the tweak you can create custom shortcuts that will link to different parts of the official Facebook app (available from the AppStore). These shortcuts can allow you to instantly view your messages, friends requests, photos etc. You can even customize the icon of these shortcuts to anything you like.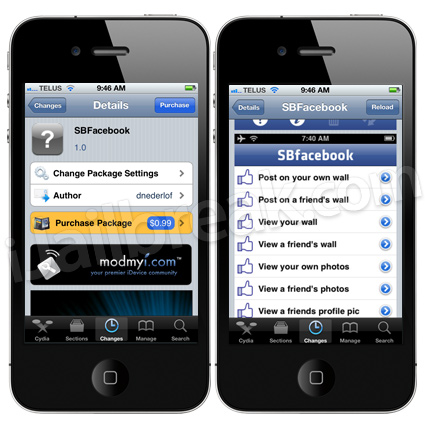 If you are interested in the SBFacebook tweak you can find it through Cydia in the ModMyi repo for $0.99.