If your are an avid Gmail user who still prefers to use Apple's stock Mail app over the free Gmail app in the App Store you may have noticed that Google stopped offering the ability to automatically push emails to new devices. Google officially announced this on January 30th, 2013 and it really is a bummer for Gmail users that are using the stock Mail app.
If you have a Jailbroken iOS device then you will be glad to know a Cydia tweak has been released to solve your problems. The tweak is called Push for Gmail and it very simply re-enables Push for your Gmail IMAP accounts in the stock Mail app.
Push for Gmail was created with conserving battery life in mind and it only connects to Gmail when you have new mail. Furthermore, new mail notifications are received instantly, just like the official Gmail app in the App Store.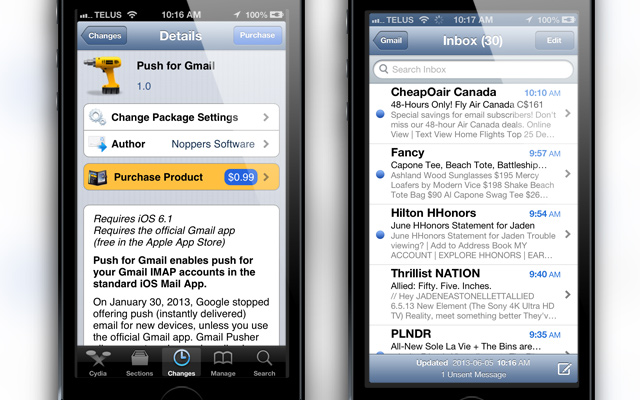 The developer notes that to configure Push for Gmail you simply install and launch the free Gmail app from the App Store on any device running iOS 6.1 and above, Sign in to your Gmail account(s), launch the built-in Mail app and then configure the same Gmail account(s) using the Gmail option. The last step is to set your Gmail account(s) to Fetch (NOT Push) and set the schedule to Manually. You will then be able to push for new emails from Gmail using the stock iOS Mail app.
If you are interested in Push for Gmail you can find it in the BigBoss repo for $0.99. Be sure to share your thoughts about the tweak in the comments section below.