Today I am excited to share with you guys that a tweak has been released that will be great for those who have a ton of tweaks installed that are taking over their Settings application.
The tweak is called PreferenceOrganizer and if you remember the Preference Folders Cydia tweak it is sort of like its successor. What the tweak will do is nest both App Store apps and Cydia tweaks into separate folders in the Settings app so that it is more organized.
By default both applications and Cydia tweaks make the main page in the Settings app extremely long to scroll through. When you install the PreferenceOrganizer Cydia tweak though all of various entries for applications and tweaks in the Settings app will be organized into either Cydia or App Store tabs.
In order to install PreferenceOrganizer you will have to add a 3rd party repository by going into the Manage tab, sources section, tapping the edit button then the add button.
aXw-Rep: http://cydia.angelxwind.net/
When you add the repo simply search for PreferenceOrganizer and it will appear on the search results and you will be able to install it to your iPhone, iPod Touch or iPad. With the tweak installed, go inside the Settings app and voila! You will see two new tabs labeled Cydia and App Store. If you go into either of the tabs you will see all the entries you saw previously on the main page of the Settings app, but split up into their corresponding sections.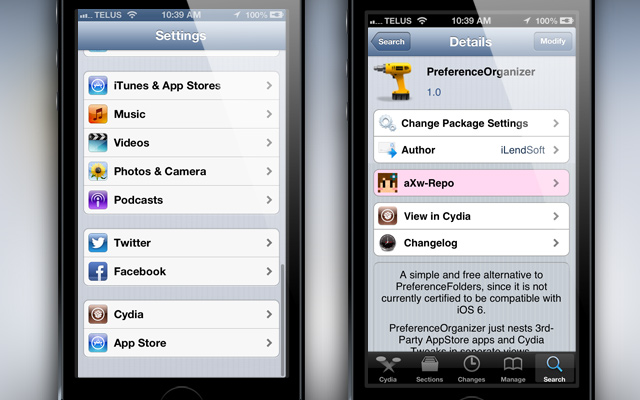 The reason this tweak wasn't accepted into a major repository like BigBoss or ModMyi is apparently because:
Apparently BigBoss won't approve the tweak seeing as when users want to troubleshoot a problem, they often resort to the settings. With the tweak, the Settings is reorganised, making this "difficult for an unknowing third-party". Also, where 'PreferenceFolders' allows for manual organisation, 'PreferenceOrganiser' is automatic and may cause "user confusion". Another point made was that the tweak uses 'arbitrary' labels where the folder name 'Cydia' should not represent tweak preferences. Finally, the last point was that the tweak is for cosmetics gain only, and not for performance.
Be sure to share your thoughts about the tweak in the comments section below and don't forget to watch our video walkthrough.